Fueling Your Journey: Discover the Top Five Cars with the Largest Fuel Tank Capacity in the UAE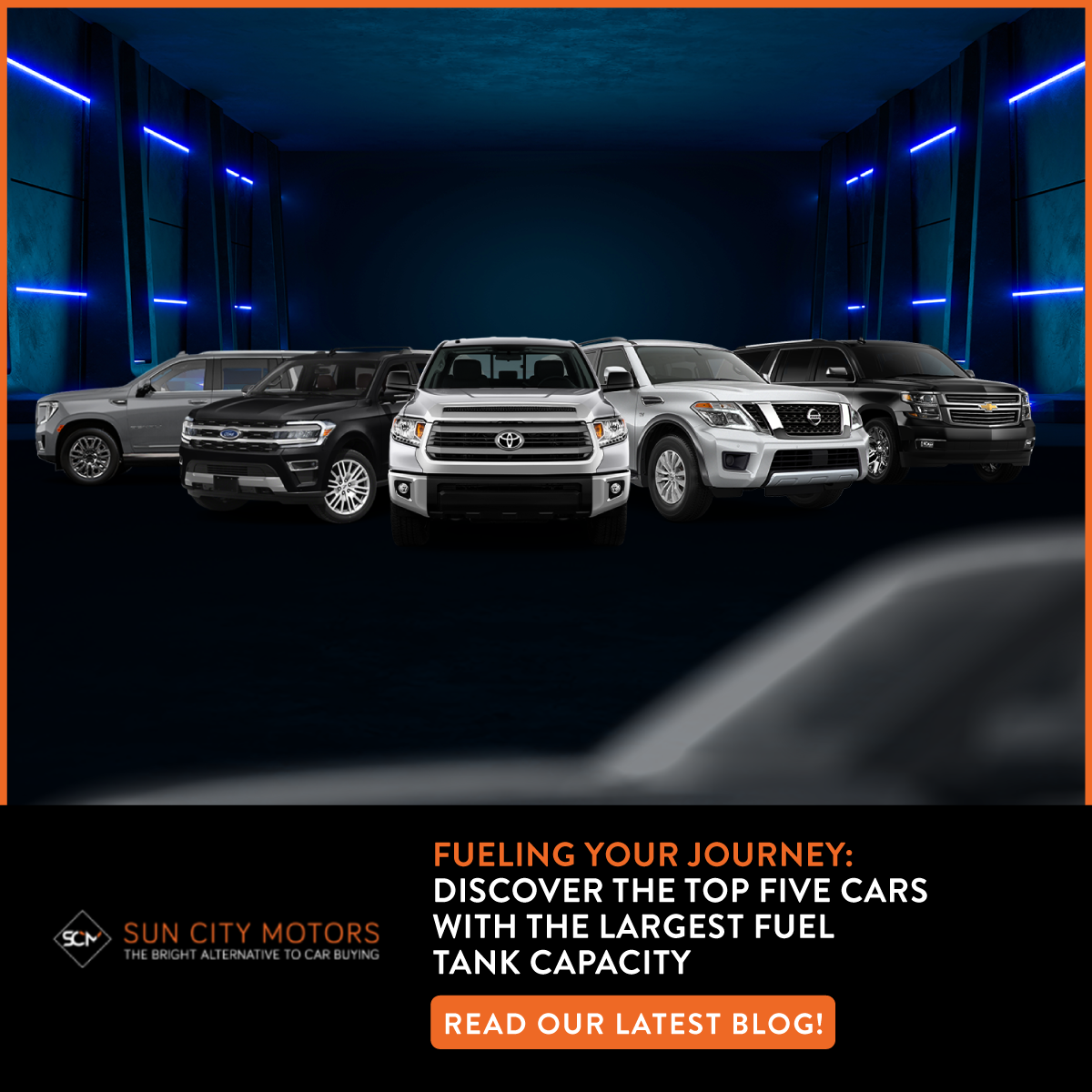 Introduction
Are you ready to embark on an unforgettable adventure across the picturesque landscapes of the United Arab Emirates? Well, before you hit those open roads and explore every nook and cranny of this magnificent country, there's one thing you need to ensure – a car with a fuel tank capacity that can keep up with your wanderlust. After all, who wants their road trip interrupted by frequent pit stops for refueling?

In this blog, we will unveil five incredible cars that boast some of the largest fuel tank capacities available in the UAE market. From rugged off-roaders to luxurious cruisers, these vehicles have been handpicked to cater to different preferences while ensuring long-distance journeys without constantly scanning for gas stations.

So fasten your seat belts and get ready as we dive into our list of top contenders! Whether you're a thrill-seeking adventurer or simply someone who enjoys indulging in long drives through scenic routes, we've got something for everyone. Let's rev up those engines and discover these remarkable automobiles with extraordinary fuel tank capacities!
Toyota Land Cruiser
The Toyota Land Cruiser is an iconic SUV that has stood the test of time. With its rugged design and powerful performance, it is a favorite choice for off-road enthusiasts in the UAE. But one feature that truly sets this car apart is its massive fuel tank capacity.

Equipped with a whopping 110-liter fuel tank, the Land Cruiser ensures that you can go the distance without having to worry about refueling. Whether you're embarking on an epic road trip or exploring remote desert landscapes, this SUV has got you covered.

Not only does the large fuel tank give you peace of mind during long journeys, but it also saves you time and money by reducing the frequency of pit stops at gas stations. This means more time spent enjoying your adventure and less time spent refueling.

Furthermore, with Toyota's commitment to efficiency and innovation, the Land Cruiser offers impressive fuel economy despite its sizeable tank capacity. So while you may have a larger reservoir for fuel, rest assured that it won't break your bank when it comes to filling up.

If you're looking for a reliable and capable SUV with an incredible fuel tank capacity, look no further than the Toyota Land Cruiser. It combines power, durability, and efficiency into one exceptional package. So buckle up and get ready to embark on unforgettable journeys across the UAE!
Ford Expedition
When it comes to cars with large fuel tank capacity, the Ford Expedition stands out as a top contender. This SUV is designed to handle long journeys with ease, thanks to its impressive fuel tank size. With a capacity of up to 127 liters, you can go miles without worrying about refueling.

The Ford Expedition is not only known for its spacious interior and comfortable seating but also for its powerful engine that delivers exceptional performance on both city roads and off-road terrains. Whether you're heading out for a weekend getaway or embarking on an adventurous road trip across the UAE, this vehicle has got your fuel needs covered.

One of the notable features of the Ford Expedition is its advanced technology that helps optimize fuel efficiency. With features like EcoBoost technology and selectable drive modes, you can tailor your driving experience while maximizing fuel economy.

In addition to its impressive fuel tank capacity and efficient performance, the Ford Expedition offers a range of safety features that ensure peace of mind during your journey. From blind-spot monitoring to lane-keeping assist and adaptive cruise control, this SUV puts safety first.

With all these qualities combined, it's no wonder why the Ford Expedition is a popular choice among those seeking a reliable vehicle with ample fuel tank capacity in the UAE. So if you're planning an adventure-filled road trip or simply looking for comfort on your daily commute, consider the Ford Expedition as your travel companion!
Nissan Patrol
The Nissan Patrol is a true icon on the roads of the UAE. Known for its powerful performance and rugged design, this full-size SUV offers more than just great looks. One of its standout features is its large fuel tank capacity, making it an ideal choice for those long journeys across the country.

With a fuel tank capacity of up to 140 liters, the Nissan Patrol ensures that you can go further without worrying about refueling frequently. Whether you're exploring off-road terrains or cruising along highways, this car has got your back.

But it's not just about the fuel efficiency; the Nissan Patrol also boasts impressive power under its hood. With a V8 engine delivering up to 400 horsepower, this beast can effortlessly tackle any terrain with ease.

Step inside and you'll be greeted by a spacious and luxurious interior. The Nissan Patrol offers plenty of legroom and headspace for both driver and passengers, ensuring comfort throughout your journey.

Equipped with advanced safety features and cutting-edge technology, such as intelligent cruise control and blind-spot warning systems, the Nissan Patrol prioritizes your safety on every adventure.

So whether you're planning a road trip with friends or embarking on an outdoor expedition with family, consider the mighty Nissan Patrol – a reliable companion that combines power, style, and ample fuel tank capacity to keep your journey going strong!
Chevrolet Suburban
When it comes to fuel tank capacity, the Chevrolet Suburban is a force to be reckoned with. This beast of an SUV boasts one of the largest fuel tanks in the market with a capacity of 117 liters, allowing you to go on long journeys without having to worry about frequent refuelling stops.

Equipped with a powerful engine and advanced fuel-saving technologies, the Suburban combines performance and efficiency like no other. Its V8 engine delivers impressive power while still maintaining decent fuel economy, making it perfect for both city driving and off-road adventures.

But it's not just its size and capability that makes the Chevrolet Suburban stand out. This iconic SUV also offers a spacious and luxurious interior that can comfortably accommodate up to nine passengers. With ample legroom and versatile seating options, every journey becomes an enjoyable experience for everyone onboard.

Safety is another area where the Suburban excels. Packed with advanced driver-assistance features such as lane-keeping assist, forward collision warning, and blind-spot monitoring, this SUV ensures peace of mind on every drive.

Whether you're embarking on a road trip with family or hauling heavy loads across town, the Chevrolet Suburban is designed to handle all your needs effortlessly. So why settle for anything less when you can have unrivaled space, power, efficiency, and safety all in one package?
Range Rover LWB
The Range Rover LWB, or Long Wheelbase, is a luxurious SUV that combines style and performance with the practicality of a larger fuel tank capacity. With its spacious interior and comfortable seating for up to five passengers, this vehicle is perfect for long journeys across the UAE.

One of the standout features of the Range Rover LWB is its impressive 104-liter fuel tank capacity. With a massive tank size, you can go further without worrying about constantly refueling. Whether you're exploring the city streets or heading out on an off-road adventure in the desert, this car has got you covered.

Not only does it offer ample space for both passengers and cargo, but it also boasts top-of-the-line technology and safety features. From advanced navigation systems to state-of-the-art entertainment options, every drive in the Range Rover LWB is sure to be enjoyable.

Furthermore, this luxury SUV provides exceptional comfort and ride quality. The plush leather seats are designed to keep you relaxed during long drives while the smooth suspension ensures a smooth journey even over rough terrains.

In addition to its practicality and performance capabilities, owning a Range Rover LWB also adds an element of prestige. This iconic brand has long been associated with elegance and sophistication, making it a popular choice among discerning drivers in Dubai.
Conclusion
When it comes to choosing a car with the largest fuel tank capacity in the UAE, you have several options to consider. Whether you're planning a road trip or simply want peace of mind during your daily commute, these vehicles offer spaciousness, power, reliability, and efficiency all rolled into one package.

At Sun City Motors, we understand that fuel efficiency is a top consideration for many car buyers. That's why we offer a wide range of pre-owned luxury cars with impressive fuel tank capacities. Whether you're looking for a Toyota Land Cruiser or a Range Rover LWB, you can trust that Sun City Motors has got you covered.

What sets us apart from other dealerships is our commitment to quality and customer satisfaction. Each vehicle in our inventory undergoes rigorous inspections and checks to ensure that it meets strict standards of excellence so that you can have peace of mind knowing that it is reliable and well-maintained. 
Moreover, our knowledgeable sales team will guide you through the buying process, helping you find the perfect luxury car with the desired fuel tank capacity to fit your needs and preferences. So, if you're searching for used luxury cars with the largest fuel tank capacity in Dubai, look no further than Sun City Motors. We are committed to helping you find the perfect car that fits your lifestyle and budget, so you can fuel your journey without any interruptions. Visit us today and let us help you drive away in your dream car!