Sun City Motors' Revamp and Employee Commendation

Sun City Motors Brand Gets a Revamp
Alongside The Elite Cars' rebranding campaign, Sun City Motors has also undergone a massive makeover in efforts to modernize its image in the market. And now, with a new logo and corporate brand identity icon, change and a true sign of growth has finally arrived at the brand.
The company's logo, incorporating the Bariol font, represents the fusion of sophistication and minimalism in its purest form. The 'SCM' acronym is positioned in the center. It is in the dark gray and orange color palettes, symbolizing the two showrooms of the company. Meanwhile, 'Sun City Motors' is capitalized, in the orange color palette and positioned on the lower right side of the diamond's base. These design elements are encased in a diamond with a gray outline. Below this diamond is the company's tagline, 'The Bright Alternative to Car Buying'.
Meanwhile, the corporate identity icon incorporates the 'SCM' acronym with 'Sun City Motors' in orange below it.
Apart from modernization, the revamp of the SCM brand signifies the management's readiness to take on a new challenge in the market through targeting growth and expansion, offering more luxury cars and bolstering its customer service practices.
Exciting, isn't it?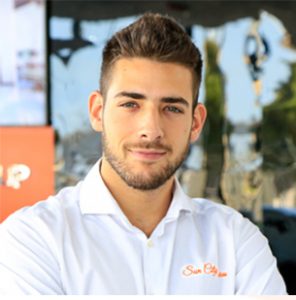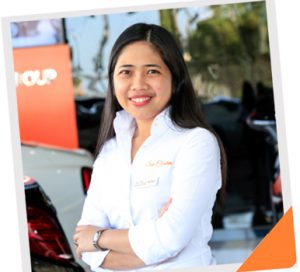 Two Sun City Motors Staff Prove that Hard Work Pays Off
When it comes to success, dedication and hard work make all the difference. These factors have paved the way for the recently achieved professional milestone of Roxanne Montejo and Elio Ayoub.
As the General Accountant for Sun City Motors, Roxanne keeps track of the income and expenses in the company. With a keen eye for details and excellent analytical thinking skills, she prepares asset, liability, and capital account entries by compiling and analyzing account information. She also documents financial transactions and recommends financial actions by analyzing accounting options.
Elio, with his prowess and experience in sales, has always been the top seller at Sun City Motors. Seeing his dedication, professional excellence and contributions to the company, the management has recently promoted him to Senior Sales Executive.
Kudos to you and keep up the good work!