Why Jetour 2023 Models Are Now the All New Rage in UAE's SUV Car World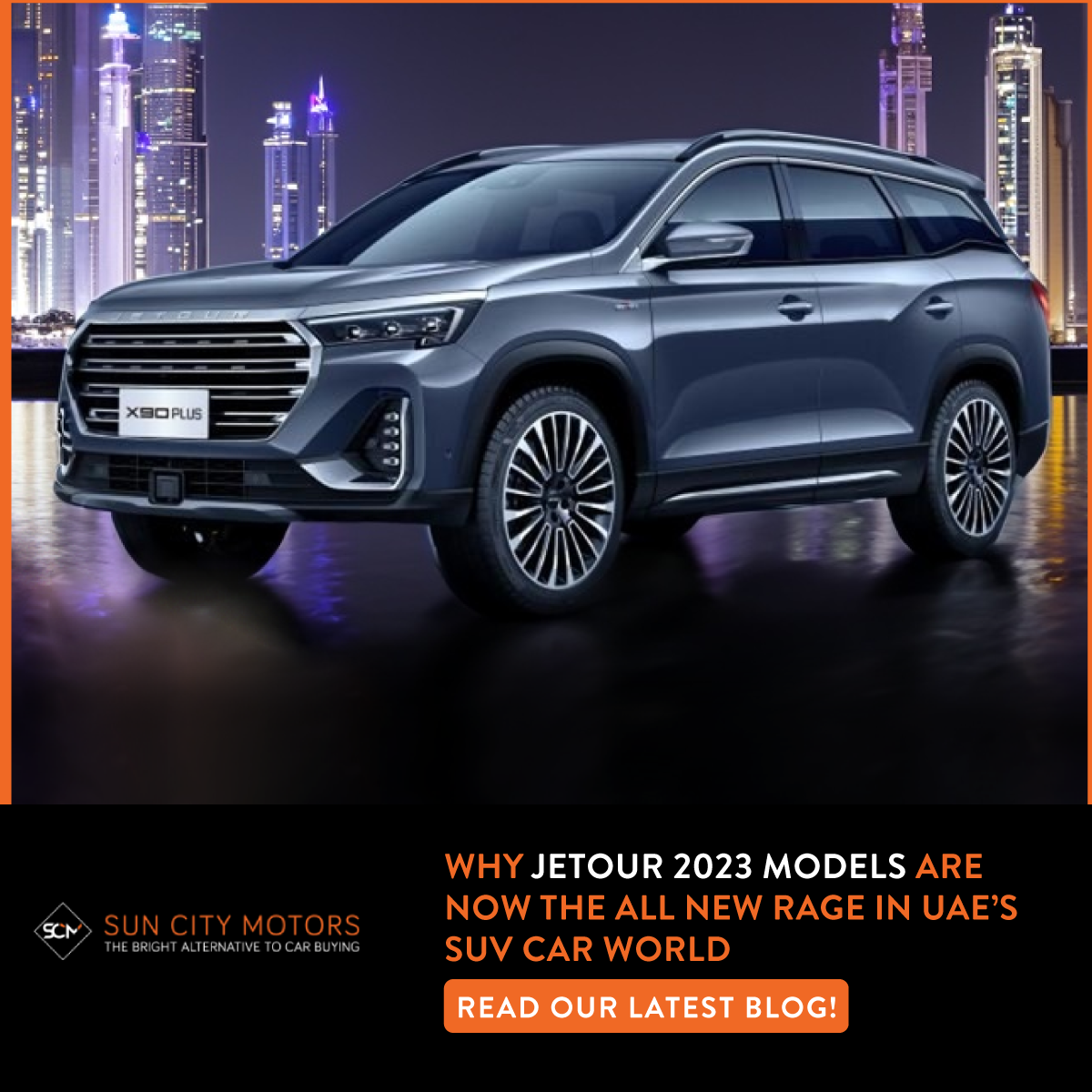 The automobile industry has been rapidly evolving, with new brands and models popping up every year. One brand that has recently caught the attention of the UAE market is Jetour. The Chinese automaker is making waves in the SUV segment, grabbing attention from the international press and partners from different regions, including the Middle East and Africa, Central and South America, Asia-Pacific, and more. With its focus on performance, design, and eco-friendliness, Jetour has quickly become a favorite among car enthusiasts in the UAE.
Jetour's high-quality and reliable vehicles that cater to the modern traveler, has helped the brand to quickly become a global leader in the automotive industry. In the UAE, the Jetour Dashing, Jetour X70 S, and Jetour X90 Plus 2.0T stand out as three of the latest and most sought-after models available from the brand and are designed to meet the needs of drivers who prioritize comfort, performance, and eco-friendliness. In this article, we will explore the Jetour models available in the UAE, specifically the Jetour Dashing, Jetour X70 S, and Jetour X90 Plus 2.0T, and what makes them stand out from the competition.
The Chinese Auto Industry: A Rapidly Growing Global Competitor
China has undergone significant progress in transforming its automobile industry from "manufacturing" to "creation." Chinese auto brands are now deeply involved in global competition, with Jetour Auto being a sample of rapid growth. In just 55 months, the company achieved 700,000 sales, establishing over 400 sales and service locations in more than 35 countries and regions worldwide. In the previous year, Jetour emerged as the most promising SUV brand with the highest number of international sales and the second-highest growth rate among all automobile exporters in China.
Jetour Dashing: The Perfect Blend of Style, Performance, and Technology
The interior of Jetour Dashing is a perfect blend of comfort and technology. The cabin is spacious, and the seats are covered in high-quality leather. The dashboard is well laid out and features a large touchscreen infotainment system that supports Android Auto and Apple CarPlay. The car also comes with a premium sound system that delivers excellent sound quality.
Jetour Dashing is powered by a 1.6-liter turbocharged engine that delivers 197 horsepower and 290 Nm of torque. The engine is mated to a dual-clutch transmission that provides smooth and quick gear changes. The car can accelerate from 0-100 km/h in just 9.5 seconds, which is impressive for a car of its size.
Jetour Dashing comes with a host of safety features including a 360° panoramic parking assist system, AEBS (Advanced Emergency Braking System), LDWS (Lane Departure Warning System, and RCTA (Rear Side Collision Alert). The car also features ABS, EBD, traction control, and a blind-spot monitoring system that alerts the driver if there is a vehicle in their blind spot. 
Jetour Dashing has a distinctive and dynamic exterior design that sets it apart from other cars in its segment. The car's front end is characterized by a large, trapezoidal grille that is flanked by sharp LED headlights and the body features sculpted lines that enhance the car's aerodynamics and give it a sporty look. The car sits on 18-inch alloy wheels that add to its aggressive stance. With its sleek design, spacious interior, and cutting-edge technology, the Jetour Dashing is the perfect SUV for the modern urban lifestyle.
Jetour X70S: A Luxurious Crossover SUV
The 2023 Jetour X70S boasts a bold and distinctive exterior design, featuring a large hexagonal grille, sharp LED headlights, and a sporty front bumper. Its aerodynamic body is accentuated by sharp character lines and a sleek roofline, giving it a sophisticated and modern look.
Jetour X70S offers a spacious and comfortable environment for both the driver and passengers. The vehicle's seats are upholstered with high-quality materials, and the interior is accented with chrome and wood trim. The driver's seat is fully adjustable, and the steering wheel is also adjustable, allowing for a customizable driving experience. The X70S also features an expansive panoramic sunroof, allowing for an enhanced open-air experience and an abundance of natural light in the cabin.
The model comes equipped with a range of advanced technology features that enhance its performance and safety. The vehicle is powered by a 1.5-liter turbocharged engine, producing 156 horsepower and 230 Nm of torque, coupled with a 6-speed dual-clutch transmission. The X70S also features a state-of-the-art infotainment system, with a 12.3-inch instrument display, 10.25-inch touchscreen display, Apple CarPlay, Android Auto, and Bluetooth connectivity.
Safety is a top priority for Jetour, and the 2023 X70S is no exception. The vehicle is equipped with a range of safety features, including an LDWS (Lane Departure Warning System), 360-degree Parking System, ABS + EBD (Anti-lock Braking System and Electronic Brakeforce Distribution), Hill Start Assist Control ESC (Electronic Stability Control), and Auto Hold Function.
Jetour X90 Plus 2.0T: Intelligent and Powerful
The Jetour X90 Plus 2.0T is one of the most highly anticipated cars to be released in the UAE in 2023. This new addition to the Jetour family is set to impress with its sleek design, advanced technology, and impressive performance capabilities. It incorporates a bold and confident design that is sure to turn heads and its sleek lines and muscular stance give it a powerful presence on the road. The LED headlights and fog lights provide excellent visibility in all weather conditions and the LED taillights add a touch of sophistication to the design. 
The Jetour X90 Plus 2.0T is designed to provide a comfortable and luxurious ride for all passengers. The spacious cabin can accommodate up to seven people, making it perfect for families and friends. The seats are upholstered in high-quality leather and offers six-way electric adjustment, lumbar support, and memory function with both heating and ventilation for exceptional comfort. The car is also equipped with a panoramic sunroof, providing passengers with a breathtaking view of the scenic landscapes.
The Jetour X90 Plus offers the latest technology to make driving more enjoyable and safer. The model comes with a large 12.3-inch touchscreen display that provides access to all the car's features, including the audio system, climate control, and navigation. The car is also equipped with a range of driver assistance features, including lane departure warning, forward collision warning, adaptive cruise control, blind-spot monitoring, and rear cross-traffic alert, ensuring that you and your passengers are safe at all times.
The power comes from a 2.0-liter turbocharged four-cylinder engine that produces 254 horsepower and 390 Nm of torque and is mated to a 7-speed wet DCT transmission. Moreover, the suspension system is designed to provide a smooth and comfortable ride, even on rough terrains, and offer excellent traction and stability on all types of roads. 
Jetour: Driving the Future of the Automotive Industry
Overall, Jetour is quickly becoming a popular choice for drivers in the UAE, thanks to their commitment to innovation, quality, and performance. Whether you are looking for a versatile SUV for your family or a luxurious SUV for your daily commute, Jetour Auto has a model that is sure to meet your needs. With its advanced technology and unmatched efficiency, Jetour is sure to impress drivers and passengers alike.
As Chinese auto brands continue to gain recognition and market share, Jetour Auto stands out as a prime example of the industry's rapid growth and evolution. With Jetour UAE committed to providing top-of-the-line SUVs for the modern traveler, Jetour is poised to dominate the automotive industry in the UAE for years to come. To learn more, follow Sun City Motors, on Facebook, Twitter, Instagram, and YouTube!
Sun City Motors: The Premier Destination for New and Pre-Owned Jetour Cars in the UAE
Sun City Motors takes immense pride in delivering top-notch pre-owned luxury cars of the highest quality in the UAE. We fully understand that purchasing a vehicle is a significant decision, and we are dedicated to ensuring a smooth and stress-free process. Our team consists of well-informed and experienced sales representatives who are available to assist you at every stage of your car-buying journey, helping you discover the ideal New or pre-owned Jetour SUV that aligns with your requirements.
In addition to our outstanding selection of Jetour SUVs available for sale, we also provide financing options to facilitate your attainment of that dream car. Our financing solutions are designed to be flexible and affordable, enabling you to relish the luxury and performance of Jetour cars without straining your finances.
At Sun City Motors, we firmly believe that everyone deserves the exhilaration of driving a cutting-edge SUV, and we are devoted to transforming that belief into a reality for our valued clients. Therefore, if you are seeking to purchase new or pre-owned SUVs like Jetour in the UAE, there is no better destination than Sun City Motors.