Unleashing Power: Pre Owned BMW X5 M50i Performance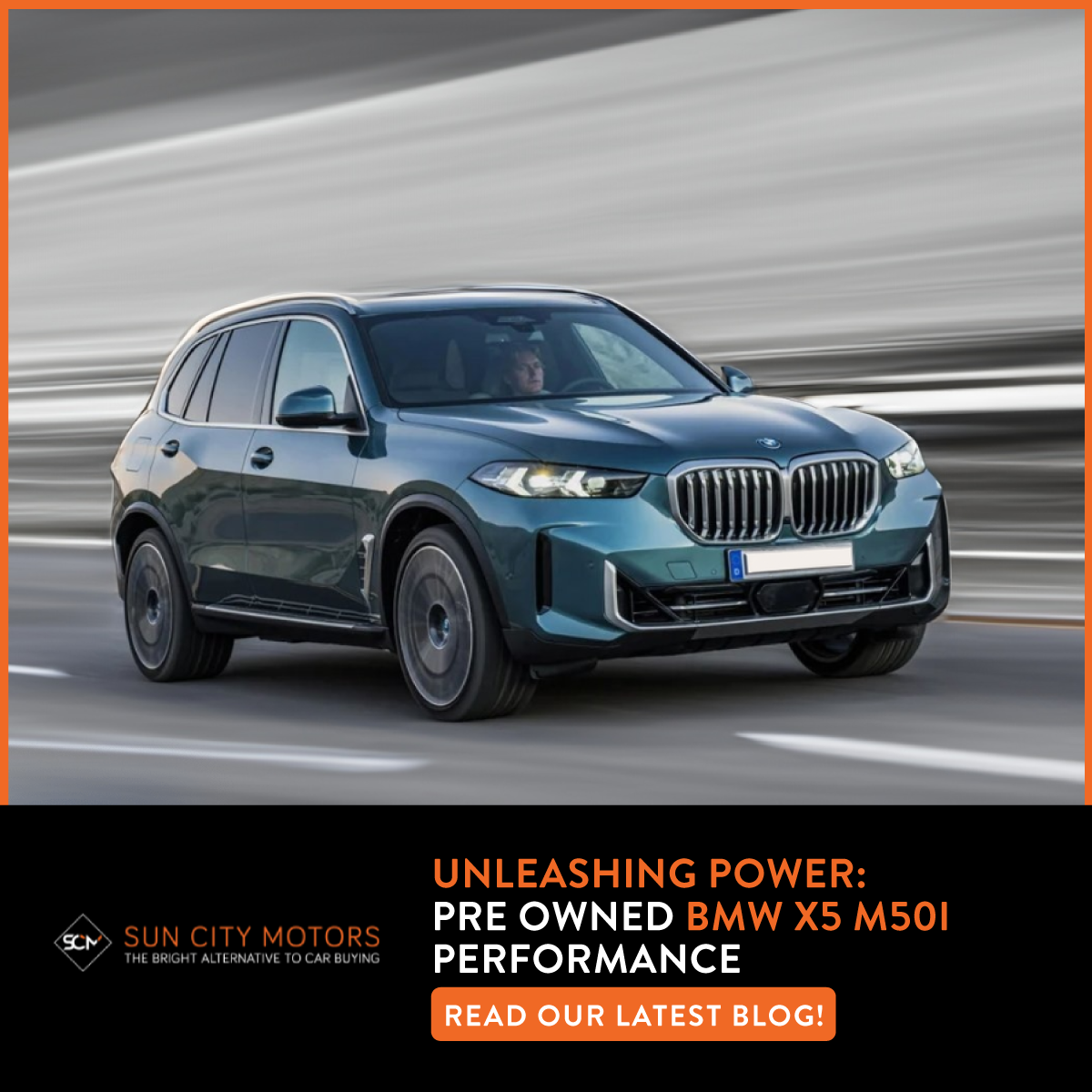 Introduction
Looking for a high-performance luxury SUV that delivers exhilarating power and unmatched driving experience? Look no further than the pre owned BMW X5 M50i. This exceptional vehicle brings together the best of German engineering, cutting-edge technology, and luxurious comfort. In this blog, we will dive into the powerful features that make the BMW X5 M50i stand out from its competitors in Dubai's car market. Whether you're searching for a used BMW X5 M50i or seeking out the best car showroom in Dubai to find your dream ride, this article is your comprehensive guide to unleashing the raw power of a pre owned BMW X5 M50i performance SUV. So fasten your seatbelts as we embark on an adrenaline-fueled journey through the outstanding capabilities and benefits of owning a pre owned BMW X5 M50i!
Overview of BMW X5 M50i
The BMW X5 M50i is a powerful and luxurious SUV that combines performance, style, and practicality. As one of the top models in the X5 lineup, it offers an exhilarating driving experience with its impressive engine power and advanced technology features.

Under the hood, the BMW X5 M50i boasts a 4.4-liter TwinPower Turbo V8 engine that delivers a whopping 523 horsepower and 553 lb-ft of torque. This incredible power allows the vehicle to accelerate from 0 to 60 mph in just 4.1 seconds, making it one of the fastest SUVs in its class.

In terms of design, the BMW X5 M50i exudes confidence and sophistication. Its bold exterior features muscular contours, large air intakes, and distinctive LED headlights that give it a commanding presence on the road. Inside, you'll find premium materials like Vernasca leather upholstery and fine wood trim accents that create an elegant cabin atmosphere.

When it comes to technology, the BMW X5 M50i is packed with innovative features designed to enhance your driving experience. The Live Cockpit Professional system includes a fully digital instrument cluster and a high-resolution touchscreen display for easy access to navigation, entertainment options, and vehicle settings.

Safety is also prioritized in this model with advanced driver-assistance systems such as lane departure warning, blind-spot detection, forward collision warning with pedestrian detection,and rearview camera ensuring peace of mind during every journey.

The BMW X5 M50i offers exceptional handling thanks to its Adaptive M Suspension system which continuously adjusts damping forces based on road conditions for maximum stability and comfort.

The xDrive all-wheel drive system provides excellent traction even on challenging terrain or in adverse weather conditions. Practicality is not compromised either – there's ample cargo space behind the second row seats which can be expanded further by folding down those seats.
BMW X5 M50i Performance Features
When it comes to performance, the BMW X5 M50i is a force to be reckoned with. This luxury SUV packs a punch with its powerful engine and advanced features that enhance both speed and handling. Whether you're cruising down the highway or tackling winding mountain roads, the X5 M50i delivers an exhilarating driving experience.

Underneath the sleek exterior of the BMW X5 M50i lies a beastly 4.4-liter TwinPower Turbo V8 engine. This powerhouse generates an impressive 523 horsepower and 553 lb-ft of torque, propelling the vehicle from 0 to 60 mph in just 4 seconds flat! The responsive acceleration allows for effortless merging on highways and quick overtaking maneuvers.

To further enhance performance, BMW equips the X5 M50i with their legendary xDrive all-wheel-drive system. This intelligent system constantly monitors road conditions and distributes power between the front and rear wheels accordingly for optimal traction and stability. Whether you're navigating slippery roads or taking corners at high speeds, xDrive ensures maximum control.

The BMW X5 M50i also boasts an Adaptive M Suspension that adapts to different driving situations on-the-fly. With electronically controlled dampers, this suspension system adjusts itself based on road surface conditions and driver input in milliseconds. The result? 
A smooth ride when cruising along straightaways combined with precise handling when taking sharp turns.

For those who crave even more control over their driving experience, BMW offers an optional Dynamic Handling Package for the X5 M50i. This package includes Active Roll Stabilization which reduces body roll during cornering by employing electromechanical anti-roll bars that adjust individually according to each wheel's position.

In addition to its raw power, the BMW X5 M50i is equipped with advanced technology features designed to enhance performance even further. One such feature is Launch Control which optimizes acceleration from a standstill by automatically managing engine revs and traction control.

All in all, the BMW X5 M50i is an impressive machine that offers an exhilarating driving experience. From its powerful engine to advanced features like xDrive and Adaptive M Suspension, this luxury SUV has everything you need for a thrilling ride.
Benefits of Buying a Pre Owned BMW X5 M50i
When it comes to luxury SUVs, the BMW X5 M50i is a top contender. With its powerful performance and stylish design, it's no wonder why many car enthusiasts are drawn to this vehicle. While buying a brand new X5 M50i may be out of reach for some, there is an alternative that allows you to enjoy all the perks at a more affordable price – buying a pre owned BMW X5 M50i.

1. Cost Savings: One of the main advantages of purchasing a pre owned BMW X5 M50i is the cost savings compared to buying new. As soon as you drive off the lot with a brand-new car, its value depreciates significantly. By opting for a preowned model, you can avoid this initial depreciation and potentially save thousands of dollars.

2. Lower Insurance Premiums: Another benefit of buying a pre owned BMW X5 M50i is lower insurance premiums compared to insuring a new vehicle. Since insurance rates are typically based on factors such as the car's value and age, opting for a preowned model can help reduce your monthly expenses without compromising on luxury or performance.

3. Certified Pre-Owned Program: Many dealerships offer certified pre-owned (CPO) programs for vehicles like the BMW X5 M50i. These programs ensure that the cars undergo thorough inspections and meet strict criteria before being sold as CPO vehicles. This means that even though you're purchasing used, you can still have peace of mind knowing that your car has been thoroughly checked by professionals.

4. Extended Warranty Options: In addition to undergoing rigorous inspections, many CPO programs also come with extended warranty options for added protection and reassurance after purchase. This means that if any unexpected repairs or issues arise with your pre owned BMW X5 M50i within the warranty period, they will likely be covered under these extended warranty plans, saving you from potentially costly repairs.

5. Access to High-End Luxury: Buying a pre owned BMW X5 M50i also provides access to high-end luxury features that may not be available in other vehicles. With its sporty design, sophisticated interior, and powerful performance capabilities, the X5 M50i is a great option for those looking for an enjoyable driving experience without breaking the bank.
Conclusion
In today's competitive automotive market, the Preowned BMW X5 M50i stands out as a true powerhouse that combines luxury, performance, and versatility. This remarkable vehicle offers an exhilarating driving experience paired with cutting-edge features that elevate your daily commute to new heights.

With its impressive powertrain and advanced performance features, the BMW X5 M50i delivers unmatched dynamics on every road. Whether you're cruising along the open highway or tackling tight corners, this SUV is designed to provide ultimate control and agility.

By opting for a pre owned BMW X5 M50i from trusted Dubai car dealers like Sun City Motors, you can enjoy all these exceptional qualities at a fraction of the price of a brand-new model. Buying used allows you to access premium features without breaking the bank while still benefiting from reliability and quality synonymous with the BMW brand.

Moreover, by choosing a reputable car dealer in Dubai like Sun City Motors, you can have peace of mind knowing that each pre owned vehicle has undergone meticulous inspections and certifications. These certified vehicles come with comprehensive warranty options to ensure that your investment remains protected.

A pre owned BMW X5 M50i offers numerous advantages over buying new. You avoid any hefty depreciation costs associated with purchasing a brand-new luxury vehicle while still getting similar performance capabilities.

When it comes to finding the best car showroom in Dubai for purchasing a used BMW X5 M50i or any other luxury vehicle, Sun City Motors should be your top choice. With an extensive inventory of pre owned vehicles from various brands including BMWs in immaculate condition and our commitment to customer satisfaction through transparent dealings and outstanding service standards make us stand out amongst other competitors. To learn more, follow Sun City Motors on Facebook, Twitter, Instagram, and YouTube!