Top Must-Have Features On Your Next Used Car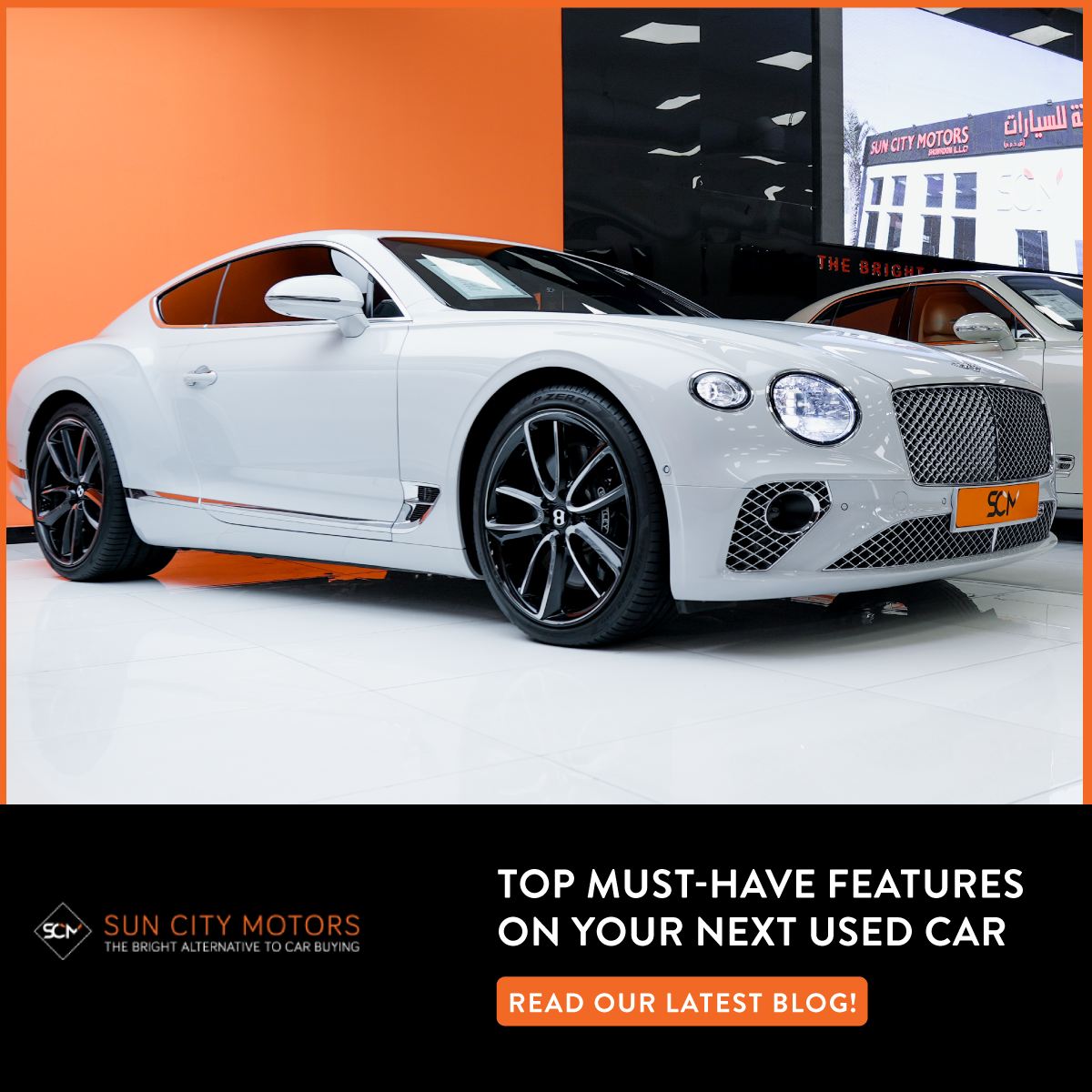 When it comes to used cars in Dubai, there are a lot of factors to consider. With so many options on the market, it can be tough to know which features are the most important. In this blog post, we will explore the top must-have features of your next used car in Dubai. From safety features to tech amenities and more, we'll help you narrow down your search to find the perfect car for you. So whether you're in the market for a sedan, SUV, or sports car, read on for our top must-have features on your next used car in Dubai.
Luxury car features you must have
When it comes to luxury cars, certain features are must-haves for many drivers. Here are some of the top features to look for in your next used car in Dubai:
A powerful engine: Many luxury cars come with powerful engines that offer great performance. If you want a car that can zip around the city, look for one with a V8 or V12 engine.

All-wheel drive: This is a great feature to have if you want to be able to take your car off-road or drive in sand and inclement weather conditions. All-wheel drive provides better traction and stability, so it's worth considering if you plan on driving in challenging conditions.

A comfortable interior: Luxury cars should be comfortable to drive and ride in. Look for features like heated and cooled seats, massaging seats, and a premium sound system to make your ride more enjoyable.

Advanced safety features: Many luxury cars now offer advanced safety features like blind spot monitoring, lane-keeping assist, and automatic braking. These can help you avoid accidents and keep you safe on the road.

A stylish exterior: Of course, part of the appeal of a luxury car is its stylish looks. Make sure to pick one that has the right aesthetic for you and that will turn heads when you're driving around town.
If you're in the market for a used luxury car, keep these features in mind. With so many great options available, you're sure to find the perfect car for your needs.
Is it a good idea to buy a used car in Dubai?
There are many reasons why buying a used car in Dubai can be a great idea. For one, the city is home to some of the most luxurious and expensive cars in the world. This means that there is a large market for used cars, and you can often find great deals on vehicles that are only a few years old. Additionally, Dubai is home to many reputable dealerships that specialize in selling used cars. These dealerships can offer you a great selection of vehicles to choose from and will often provide you with financing options as well. 
Of course, there are also a few things to keep in mind when considering buying a used car in Dubai. First, it is important to remember that the market for used cars is very competitive. This means that you will need to do your research in order to find the best deal possible. As long as you are aware of these risks and take the necessary precautions, buying a used car in Dubai can be a great way to save money on your next vehicle purchase. 
There are many different types of cars available in the market, so it's important to have a clear idea of what you're looking for before beginning your search. Once you know what you want, start by searching online classifieds and dealerships in your area. Take the time to inspect any used car thoroughly before making a purchase. Check for signs of wear and tear, and make sure all the mechanical parts are in good working order. It's also wise to get a history report on the car to check for previous accidents or damage.
Finally, remember that buying a car in Dubai is a major financial decision. Make sure you are comfortable with the price before signing on the dotted line. With careful consideration and research, buying a used car in Dubai can be a great way to save money and get behind the wheel of your dream car.
How can I be sure that the car I am buying is in good condition?
If you are planning to buy a car in Dubai, it is important to make sure that the car is in good condition. Here are some tips to help you:
Get a professional inspection: Before making a purchase, it is always advisable to get a professional opinion on the condition of the car. This will help you identify any potential problems that may not be immediately apparent.

Check the service history: Another good way to gauge a car's condition is to check its service history. If the previous owner has kept up with regular servicing and maintenance, this is usually a good sign that the car has been well cared for.

Take it for a test drive: Finally, don't forget to take the car for a test drive before making your decision. This will give you a chance to see how it feels and drives, and identify any issues that may not be immediately obvious.
Is it better to buy a used car or a new car?
There are a few things to consider when deciding to buy a car in Dubai. The first is your budget. If you have a limited budget, then a used car is likely your best option. Used cars can be found for a fraction of the price of a new car, and you can often find ones that are in great condition.
Another thing to consider is what you will be using the car for. If you only need it for basic transportation, then a used car will probably suffice. However, if you plan on using the car for long road trips or other activities, then you may want to opt for a new car.
Finally, think about your personal preference. Some people feel more comfortable with a brand new car, while others are perfectly happy with a used one. Ultimately, the decision of whether to buy a used or new car is up to you and what best fits your needs and budget.
Conclusion
There are a lot of great used cars on the market in Dubai, but if you're looking for the best of the best, then you'll want to make sure you get a car with all of the must-have features listed above. With so many options to choose from, it can be tough to know where to start, but this list should give you a good starting point. So take your time, do your research, and find the perfect used car for you and your family. To learn more, follow Sun City Motors, on Facebook, Twitter, Instagram, and YouTube!