Top 4 Things to Know About Car Loans in Dubai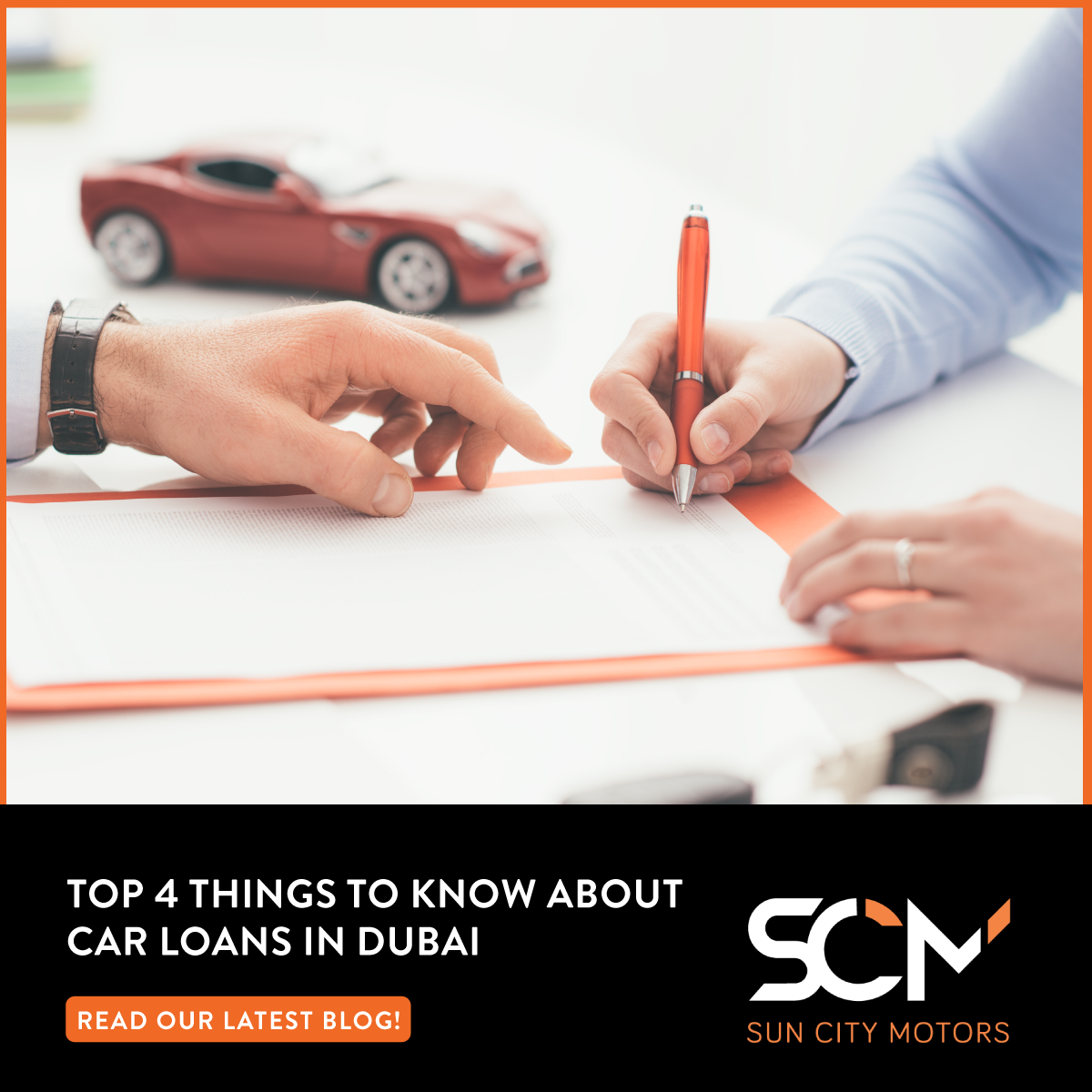 Owning a car is one of the most popular lifestyle choices to make when living in Dubai. Whether it's a luxury car or an energy-efficient vehicle, a pre-owned or brand-new car, a car is a necessity when living in the UAE. Many people opt for car loans in Dubai to buy new or used cars. With an auto loan, you can purchase your next vehicle without having to worry about making a large upfront payment. Car loans can be easily paid in monthly installments and one can avoid the hassle of paying a lump sum amount all at once. They can be obtained from most banks, credit unions, and car dealerships. If you decide to take out a loan, what will be the terms of your loan and how do they compare with other options? We've had the same questions at some point in our car buying process, so we've created a list of things to think about before availing a car loan in Dubai.
Benefits of taking a
car loan in Dubai
A car loan in Dubai has many benefits, making it an attractive option for buyers. Car loans help you finance your dream car without having to come up with all the cash upfront. You can get into your new car sooner and start enjoying all the benefits that come with it. Unlike a personal loan, you can get a much lower interest rate on your car loan. Some banks offer flat interest rates on car loans starting from 2% up to 4%.
Another benefit of a car loan is that it can help you build your credit score. Strong credit scores automatically qualify you for other borrowings such as mortgages, or getting good interest rates on other loans. By making timely payments on your car loan, you can improve your credit score over time. 
When you opt for a car loan, you get negotiating power on the price of the vehicle you're interested in. Many dealerships are willing to work with buyers who have financing in place, which means you may be able to get a better deal on your dream car by taking out a loan. Some dealerships working with banks to provide a loan, can offer a zero down payment option as a promotional offer by offsetting the cost in the invoice.
Documents to have ready before getting a
car loan in Dubai
When financing your car purchase it's important to have your paperwork in place to get the loan process started. Whether you go to a bank or car dealership in Dubai, here is a list of the documents to have ready before setting out:
Passport – You will need to show your passport as proof of identity when applying for a car loan
Emirates ID – You will also need to show your original Emirates Identification when applying for a car loan in Dubai. This is your national identification card which all residents of the UAE are required to have

Salary Certificate – You will need to present evidence of your monthly income. A salary certificate signed by your employer and stating your monthly income will suffice for this purpose
Bank Statements – Collect recent bank statements, preferably from the past 6 months as you'll need to present it as part of the documentation and application process. These statements must be from an account in your name and should show enough funds available to cover the down payment and monthly installments on the loan.
Terms to know before negotiating a
car loan in Dubai
If you're looking to finance a car in Dubai, there are a few terms that you should understand before having a conversation about it. Here are a few important ones:
Loan amount:  This is the total amount that you will be borrowing from the bank or financial institution to finance your car's purchase price
Down payment: Car loans in Dubai usually finance upto 80% of the purchase prices for a new or used car. The remaining 20% is an initial down payment which you pay directly to the bank. The bank then in turn pays the full amount to the dealer. Most lenders will require that you make a down payment on your car loan before they approve the financing. Alternatively, you can ask the dealership to offset the down payment on the invoice.

Interest rate:  This is the rate at which interest will accrue on your loan amount. Interest rates in Dubai are generally lower than other countries, making car loans an attractive option for many buyers
Loan tenure:  This is the length of time over which you will repay your loan. Loan tenures in Dubai can range from 1 to 5 years. Tenure for new and used cars is 60 months, however, it is usual to have shorter tenure for used cars.
Early settlement fee: If you choose to settle your loan early, most banks or financial institutions will charge an early settlement fee. This fee is usually equivalent to a percentage of the outstanding loan amount.
Balloon Payment: A balloon payment is a large, lump sum payment that is due at the end of the loan term. This type of payment can often be structured into financing plans for luxury cars in Dubai. With such a plan you can make smaller monthly payments in the early years of the loan and incur a large amount toward the end of the tenure.
What to do after becoming eligible for a
car loan in Dubai
Banks in UAE have a minimum eligibility requirement for availing loans. If you're planning to finance your latest car purchase in Dubai, there are a few things you'll need to do first. Here's what you can expect:
Get pre-approved for a loan: In order to get the best financing deal, it's a good idea to get pre-approved for a loan from your bank or another lender before shopping for a car. This way, you'll know exactly how much money you have to work with and can avoid being taken advantage of by dealerships.

Shop around for the best interest rates: Once you've been pre-approved for a loan, take some time to shop around for the best interest rates from different lenders. Some lenders may be willing to offer better terms than others, so it's worth your while to compare offers before making a decision.

Make sure all paperwork is in order: Before signing any loan documents, make sure that all of the paperwork is in order and that you understand everything that you're agreeing to. This includes reading over the fine print carefully and making sure that there are no hidden fees or unexpected costs associated with the loan.

Work out personal finances: It's best practice to keep monthly payments on your car loan in Dubai to half your total salary to easily manage your expenses. Another option that you may consider eventually is refinancing your car loan to reduce your monthly payments on interest.
Conclusion
If you're looking to finance your latest car purchase in Dubai, there are a few things you'll need to keep in mind. First, make sure you shop around for the best possible interest rate. Secondly, remember that shorter loan terms typically attract lower interest rates but also means you'll pay more in monthly installments over the life of the loan. This can be beneficial if you want to clear the loan quickly. Lastly, don't be afraid to negotiate with dealerships on the price till the very end — after all, they're expecting it! By following these tips, you can ensure that you get the best deal possible on your next car purchase. To learn more, follow Sun City Motors, on Facebook, Twitter, Instagram, and YouTube!