Top 10 Reasons to Love Jeep While in Dubai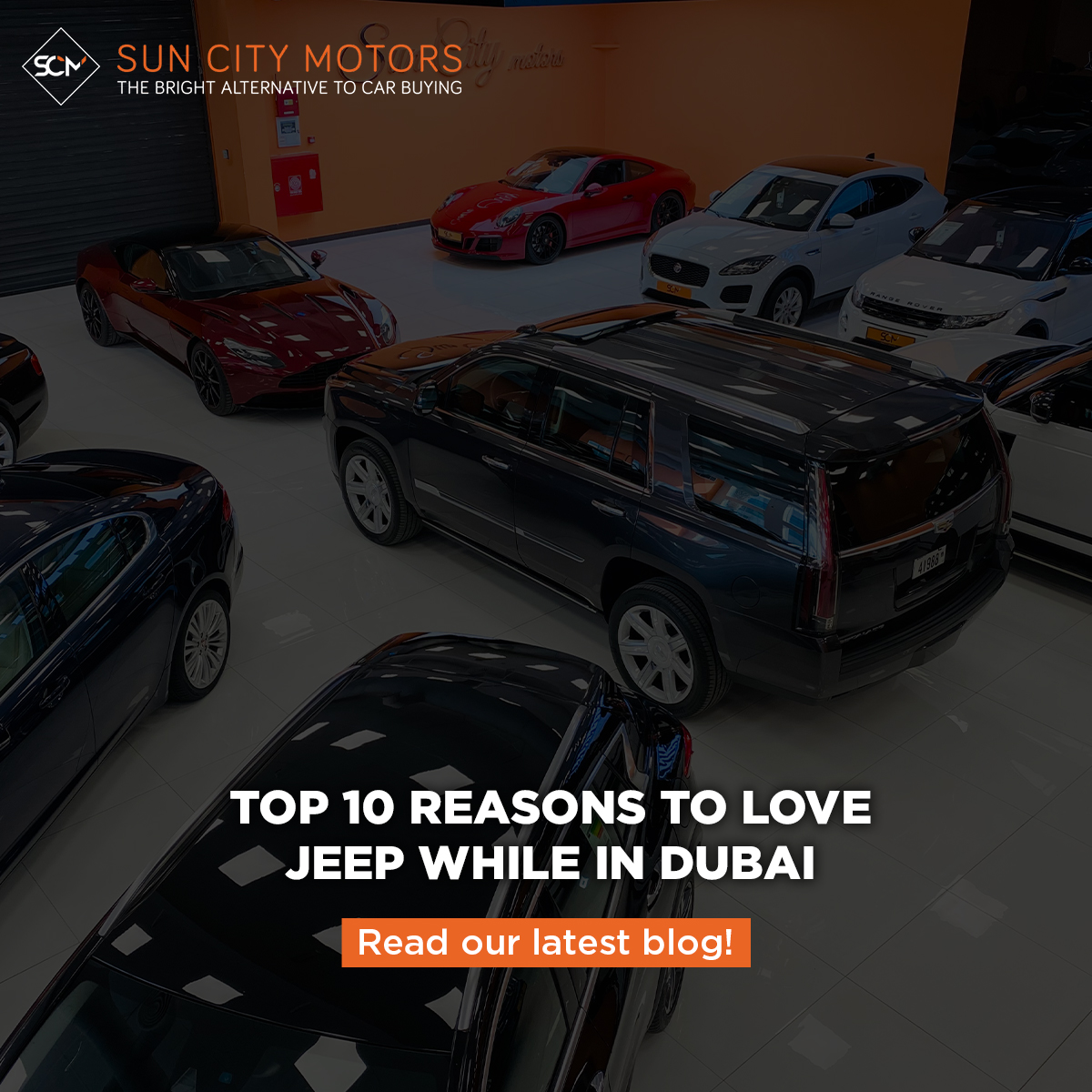 In places like the desert, cars do not last a long time. The heat combined with sand is not exactly a favourable condition for a car to last forever. More often than not you will hear reports of cars malfunctioning in just a few years. In places like the Middle East, the glitz and glam may have changed but the weather remains the same. There is no escaping the heat or the sand for that matter. This certainly means no matter how rugged you think your new car is, it simply may not last long as you think. Hence, these days it makes sense to go for good quality pre-owned cars. Yet, there are some cars that are designed to take on the hostile environment.
SUVs are a certain class of vehicles that have been purpose-built for this environment. What these cars come with is four-wheel drive, a rugged chassis, an engine, and most importantly, the ability to handle anything nature can throw at it. Yes, we are talking about SUVs and particularly the Jeep. While the modern Jeep or the company itself has various models that are designed to serve a wider audience, the iconic brand makes cars that are ideal for the desert.
It's not just the Jeep dealers in Dubai that assure you of the quality and ruggedness of their cars, even amongst the pre-owned cars in Dubai, Jeep stands out as the top choice.
Top 10 reasons to buy a Jeep in Dubai
While we all know why a Jeep in Dubai makes the most sense, let us break down the important factors and help you make an informed purchasing decision.
VERSATILITY
Visit any Jeep Dubai showroom and you will discover that these cars are no longer just built for off-roading. They are like well-built cars and can serve multiple roles. Be it carrying your kids to soccer practice or heading off the beaten path, Jeeps can do a lot of things. They can easily fit multiple people in and nobody will complain of any back pain. They can also traverse through rough terrain without breaking down. If a versatile car is what you want, then the Jeep is your loyal friend.
SPACE
There is space, lots and lots of space. The Jeep brand only makes SUVs and after all, no other type of car can provide as much space as an SUV can. You not only get a lot of legroom, but you also get plenty of headroom. You also get a lot of luggage space in the back and if you need more just fold the seats. You will get enough space to accommodate your luggage for an adventure or a vacation.
COMFORTABLE RIDE
One of the best things about buying a Jeep is that you will never have to compromise on the ride quality. No matter the terrain, rocky, sandy, muddy, or just plain roads, you can rest assured your car will ride it out smoothly. They come with four-wheel drive, limited-slip differentials, great suspensions, and gas shocks that ensure that your ride will never feel bumpy. You will, however, need to maintain it. New or a used Jeep, maintenance is the key to ensuring your ride is smooth, ask any Jeep Dubai dealer and they will verify.
FEATURES
The advantage of modern technology is that everything eventually becomes affordable. In this case, it is the set of features that you will find in a Jeep that has become the norm. You get ABS, fog lamps, options between soft and hard-tops, a sunroof, heated seats, two hooks, and power steering as standard. Even in many of the pre-owned cars Dubai, you will get these, however, they cost more. In a Jeep, these can be found even in the base models.
NOISE
The myth around off-roading cars is that they tend to be noisy machines, however, that is not true in the case of the Jeep. Jeeps by design come with a bigger wheelbase, which allows them to crunch any surface they traverse on. What's more a lot of the modern Jeep models even the various pre-owned cars that you may have seen in dealerships come with superb padding, damping and carpeting that ensures you get less noise inside the car.
TOWING CAPACITY
There are very few cars in the world that can tow a massive 3500 pounds; Jeep makes cars like the Wrangler that can do this. They are built to help out other cars from the perils of off-roading. In places like the Middle East, it is common to find cars that can get stranded in the desert. Go to any Jeep Dubai showroom or a renowned used car dealership and they can demonstrate the effectiveness of a Jeep's towing capacity.
SAFETY
Jeeps are very safe. Their bodywork is made out of premium materials, they are impact tested, and you will find that modern Jeeps come with a slew of safety features. Front disc brakes, dual airbags, and triple-point seatbelts are all standard in a Jeep. For more safety information, contact a used Jeep Dubai dealer today.
AFFORDABLE MAINTENANCE
Even among all the pre-owned cars Dubai Jeeps have among the lowest rates of maintenance. A part of the reason is the sturdy construction and another is that Jeep parts are cheap and can be used on different models. Finding parts becomes easy and for a car that is this well-built, maintenance becomes a breeze.
COMPETITION
Go ahead and take a look at the list of good pre-owned cars and you will find that not a lot can even match up to the Jeep let alone compete against it. It has everything you would look for in a used car and it is specially built to last in the Desert. No other SUV can stack up to the Jeep.
CHOICES
Go to a used Jeep Dubai showroom and you will be amazed by the range of cars on offer. Jeep knows that it no longer has to offer a single product and has diversified well. You will be able to find a car that fits your needs at a cost that will put a smile on your face. What's more Jeep models come in a plethora of colors and with a ton of additional features.
Conclusion
When you are in Dubai the desert can look a lot friendlier than it is. However, as you get acquainted over time you will learn of the challenges it poses to everyday life. Your car is among the first to face the desert head-on. You want a vehicle that can not only challenge the conditions but thrive. There are very few cars in the world that can do that. When you approach a used Jeep dealer in Dubai like Sun City Motors, you will be well aware of the advantages of having a Jeep in Dubai. Once you drive it and use it, you will enjoy a car that can overcome anything you throw at it. For the latest news, offers and updates, visit our website and follow Sun City Motors on Facebook, Instagram, Twitter, LinkedIn, and YouTube.