The Ultimate Checklist for Buying Used Cars in 2022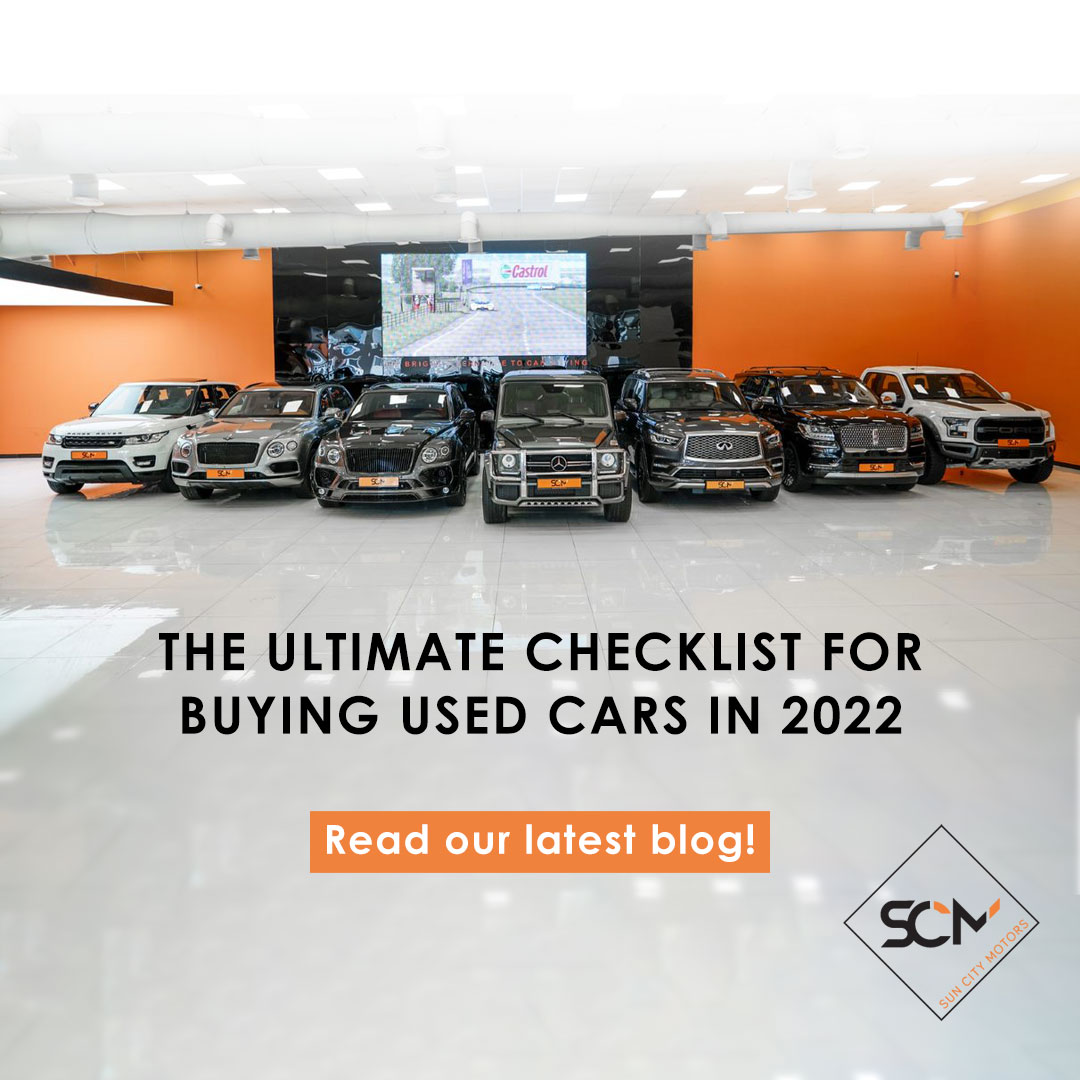 Introduction

Cars in the modern world are built to last. Manufacturing processes have advanced and the quality of materials used has also evolved. Naturally, people buy used cars in Dubai without much worry as today's used cars are now commodities that have value and can stand the test of time. It is very common to see cars even decades old still run smoothly and hence when you buy car in Dubai, a used one represents a superb economic value.
While the market may be rife with prospects, new buyers might still be unaware of the various pitfalls that lay ahead. Worry not for we have the right market experience and can help you buy the right second-hand car in Dubai. This article is a guide and a checklist for what you need to look out for when you are in the market for a second-hand car.
Where should you buy a used car?

The first question that you need to be answering is where can you buy a used car in Dubai? Especially when looking at used cars you might find yourself with way more options than you could have asked for. You can easily get the car you want from a myriad of places. Whether it is individual dealers, authorized resellers, used car dealerships, or even online platforms. You will be spoilt for choice when it comes to buying used cars. Car manufacturers themselves often have a pre-owned car dealership.
Before you make the purchase decision take a look at as many places as possible. Do not hesitate to switch to a different seller if you get a better deal. A point of note, before you decide that you want to buy a used car, decide on the budget. Salesmen can often sweet talk you into choosing a deal they are offering. When you make the budget, take into account the overhead charges you will be incurring such as insurance.
Choosing the right car

If you are already firm on buying a new car, it is time to decide which car will be worth your money. You might already have an idea of the type of car you want, the specifications, and features, however, you should not make the judgment based on that information alone.
When you buy used cars in Dubai, you need to take a look at how old the car is. A good reference is that the price of cars tends to depreciate three years after their purchase and then plateaus. This means you can get a relatively newer model at a good price. You should also never purchase a car that has been discontinued by the manufacturer. The repair costs rise steeply and parts are hard to get by.
The condition of the car: A checklist

This is the part where we take a closer look at the various elements that you need to scrutinize before you make a purchase. Remember, whenever you buy second-hand car in Dubai you should always closely inspect the car. Here are some pointers to help you out.
The body and parts

Check the exterior of the car thoroughly. Remember it is always the first area where you can notice the amount of care and attention that the owner has put in his car. Look for dents, scratches, replaced parts, etc.
You should also take a look at the underside of the car. Use a torchlight to see any damage to the parts. Check for rust and other defects. Use this time to also inspect the wheels. You do not want to buy a used car just for you to be spending more money on replacing parts.
The interiors

The inside is where you can truly get an idea of what the used car is worth. A lot of owners often fail to maintain their interiors as well as their exteriors and it reflects well. When you are inspecting the car, check for burns and stains on the upholstery. You should also take a closer look at the various electronics such as the stereo, AC, and windows. The more electrical units the car has the more you need to test out. You should also focus on the odometer to get an idea of the potential problems your car might have and to get the correct reading on the mileage. If you see any defects, you can easily use that to shave off a few bucks from your offer.
Take it for a spin

Before you make any decision, you need to get behind the wheel and find out for yourself if the car is worth the money. While you may have inspected every detail of the car's interior and exterior, you will still want to take it out for a test drive. Put the car through its paces and see how it runs. After all, the most important aspect of a car is its drivability. Putting it through the wringer will also help you find certain defects that are not noticeable on the inspection alone. When you buy car in Dubai, especially used, always take it for a spin.
Thoroughly check the paperwork

Check, recheck, and triple check the paperwork. You are buying a used car and when you invariably get to use it you do not want any obstacles. Take a close look at the receipts, the original invoices, and the paperwork. Going through the paperwork will help you take a look at the service history, accident history, or if any changes have been made to the car's mileage. The Registration Certificate helps you ascertain how many times your car has been brought and sold. You can also compare the car and chassis number to see if any changes have been made. The service booklet also helps in understanding if the owner has paid all his dues.
Transfer of ownership

After buying used cars in Dubai it is necessary to make sure all the documentation and transfer of ownership are done correctly. Check for the insurance papers and see if the car is still under insurance. You need to have legal ownership of the car if any issues arise later on.
Are you good at negotiating?

Finally, now that you have decided to make the purchase it is time to settle on the price. Negotiating prices can be difficult at times and if you are not good at haggling, try getting someone who is. Be patient and drive a hard bargain, you will eventually get the price you want.
Conclusion

When you buy second-hand car in Dubai, follow these tips and use them as a reference to help you make a sound decision. Ultimately, go by your instinct once you have gone through the checklist. At Sun City Motors, we make it easy for you to get your hands on a good reliable car, and this checklist will help you get the best possible deal within your budget.