THE NEWEST CATASTROPHE-READY TRUCKS AND SUVS
When a disaster comes, you'll need a vehicle that can deal with difficult terrains, and can keep going for the long haul. Fortunately, many of today's trucks and SUVs were made ready for the job. These tough off-roaders have what it takes to help you survive a doomsday scenario — be it a terrible accident, tough weather, or a bad terrain. We've rounded up the rigs we'd buy and kit out for the end times, all chosen for their toughness and general off-road capability:
2020 Mercedes-Benz G-Class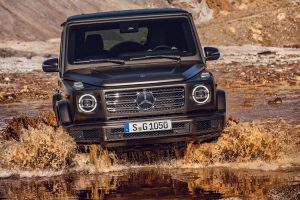 Photo Credit: Mercedes
The storied Mercedes-Benz G-Wagon is as capable as it is stylish. The G-Class was built for traversing mud, water, and steep slopes without breaking a sweat thanks to the three locking differentials and articulate suspension. A 4.0-liter twin-turbo V-8 engine making 412 horsepower and 450 lb-ft powers the "base" G550 model, while the more thrilling Mercedes-AMG G63 variant gets a 577-hp, 627 lb-ft version of the same engine. Either way, you'll be mowing down zombies and eluding roaming looters in style.
2020 Land Rover Defender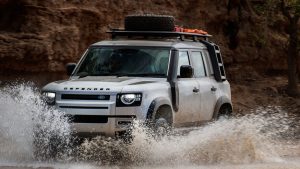 Photo Credit: Land Rover
The Land Rover Defender is not your typical body-on-frame off-roader (not anymore, that is). Resurrected for 2020 as a modern unibody SUV, the once traditionally rugged 4×4 nevertheless stands 11 inches off the ground and can wade through 35.4 inches of water. The four-door Defender 110's 38-degree approach, 29-degree break-over, and 40-degree departure angles help make it one of the most capable off-road vehicles on the market and the two-door Defender 90's figures are even better. If we can drive it across the African wilderness without breaking a sweat, it'll handle your abandoned residential street just fine.
2020 RANGE ROVER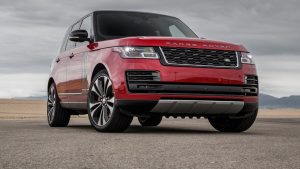 Photo Credit: Range Rover
We'd appreciate a moment to recharge in the Land Rover Range Rover's hot-stone massage seats offering 25 different programs. The luxurious SUV is available in many different flavors, from a versatile plug-in hybrid to the effortlessly quick SVAutobiography Dynamic with a supercharged V-8 to a surprisingly fuel-efficient diesel that can travel 545 miles on a tank. Come for the legendary off-road ability, stay for the peerless comfort and grace.
2021 FORD BRONCO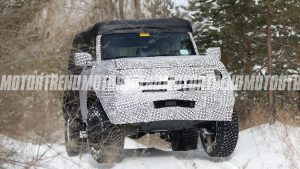 Photo Credit: Ford
After a two-decade hiatus, the Ford Bronco is back to give the Jeep Wrangler a run for its money. Debuted this year, the 2021 Bronco SUV will sit on the same platform as the mid-size Ranger pickup and feature a mix of retro and modern design cues. Given Ford's expertise with off-road trucks like the F-150 Raptor and Super Duty Tremor, we expect the Bronco to be a strong performer off the beaten path, as you can see in the spy photo above, where a Bronco prototype is leaping through the snow.
2020 FORD F-150 RAPTOR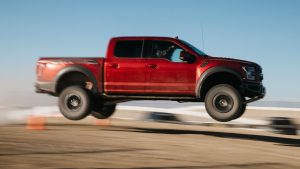 Photo Credit: Ford
America's best-selling vehicle would make a great doomsday truck, right? Why buy a regular Ford F-150Â when you could grab the Raptor, which is equipped with everything you need to jump over a sand dune or nuclear waste. Instilling confidence off the beaten path even at speed, the truck's Fox shock absorbers adjust to changing terrain conditions with continuously variable compression damping. Under the hood sits a 450-hp 3.5-liter twin-turbo V-6, which is more than enough to blast through lonely, lifeless terrain.