The All New Bentley Bentayga S: Bold, Beautiful & Brilliant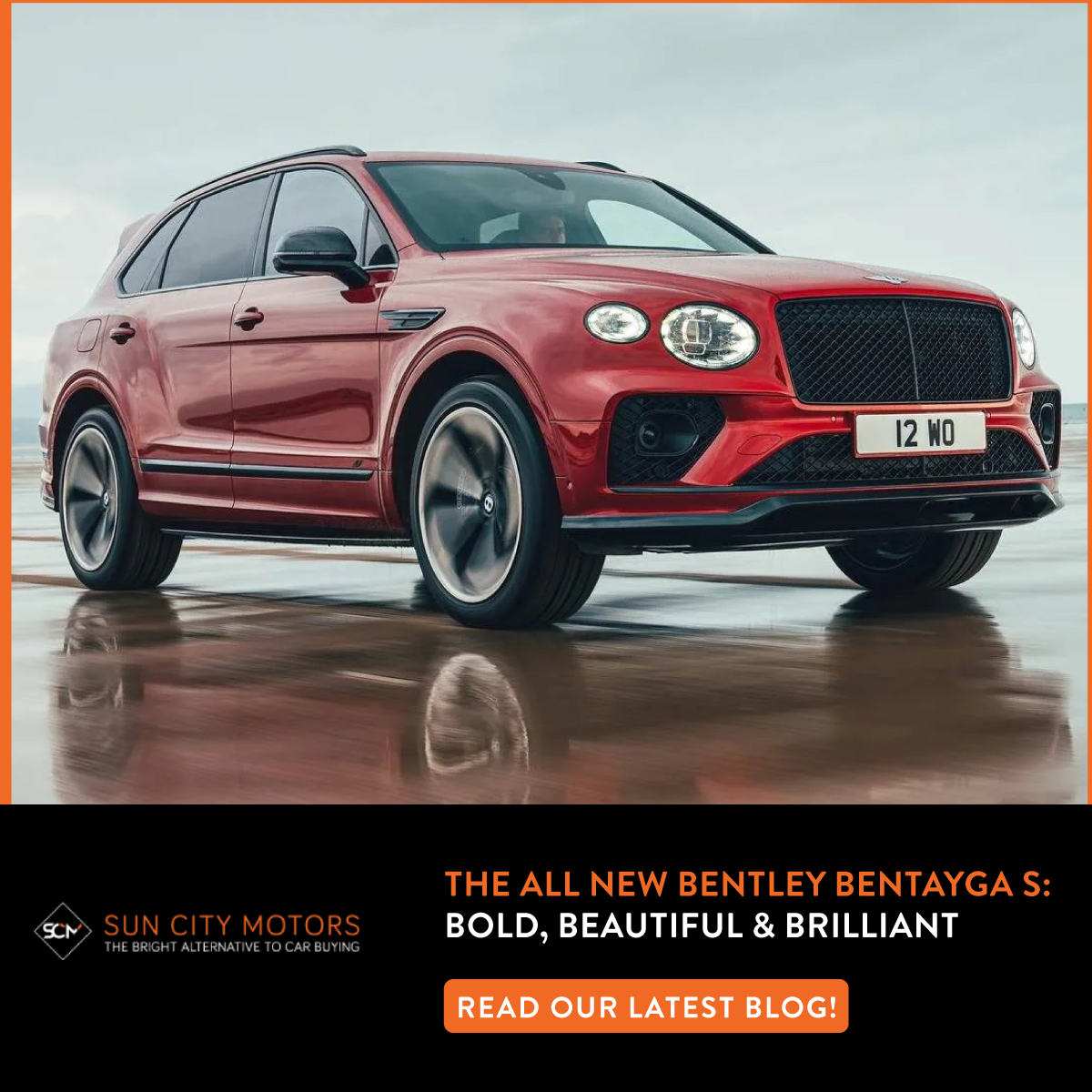 Fasten your seatbelts and get ready to experience the latest and greatest from the legendary British automaker, Bentley. The 2023 Bentley Bentayga S is a masterpiece of automotive engineering, designed to make heads turn and hearts skip a beat. With its suite of high-contrast details and sleek lines, this stunning SUV is crafted to stand out from the crowd. But as with every Bentley, there is more to this vehicle than meets the eye. Let's take a closer look at what makes the Bentayga S so special.
Designed to Stand Out
The Bentayga S is characterised by a darker edge, with dark-tint headlamps and taillamps, matrix grille and tailpipes finished in black, and all exterior brightware painted in black, except for the BENTLEY lettering and wing badges. The body kit with black painted side sills, front and rear bumper details, and an elongated rear spoiler gives the sleek lines of the Bentayga additional visual impact. The stunning 22" wheels, which are designed exclusively for the Bentayga S, can be commissioned in your choice of three different finishes, and the red-painted brake callipers peer through the wheels with an imposing presence. 
Even when you sit inside the Bentayga S, there is no mistaking its identity. The signature 'S' badging can be seen on the fascia and the treadplates, as well as unique 'Bentayga S' embroidery on the fluted leather seats. The interior is upholstered with handcrafted leather hides  and feature an exclusive, eye-catching colour split.  For extra visual interest and a sure grip, frequently touched areas are lined with lightweight, suede-style Dinamica. Bentley's legendary attention to detail is clearly evident, even in the car's digital elements as well as the driver's instrument panel where the graphics reflect the car's sporting theme.
Powered to Outperform
The Bentayga S is not just a pretty face, it's also a beast on the road. The Bentayga S is available with either a twin-turbocharged, 4.0-liter V8 engine or a turbocharged 3.0-liter V6 hybrid powertrain. 
The twin-turbocharged, 4.0 litre V8 engine churns out a massive 542 bhp and 770 Nm of torque, which takes you from 0-100 kph in a breathtaking 4.4 seconds and go all the way to an exhilarating top speed of 290 kph. If that's not enough, the V8 version's enhanced Sport Mode will take your driving experience to the next level, as the settings for the engine, transmission and chassis are optimised for maximum performance. The V8 configuration is fitted with a Sports Exhaust as standard, which makes the most of its inimitable roar. 
And let's not forget about the Bentley Dynamic Ride, a powerful electronic anti-roll system that helps keep the cabin of the V8 version level when cornering, without compromising on the refined ride you expect on the open road. But the Bentayga S doesn't stop there. The V8 version comes with the All-Terrain Specification that offers different driving modes for different surfaces, as well as underfloor protection to ensure that you can take your Bentayga S wherever you need to go.
But if you prefer a more eco-friendly option, the V6 hybrid powertrain delivers 456 bhp and 516 lb.ft of torque, with a top speed of 254 kph (135 kph when running on electric power alone) offering you the perfect blend of luxury and performance. Of course, with great power comes great responsibility, and Bentley has loads of features to ensure that you stay in control at all times, whether you're on the open road or exploring new terrain.
Technology Ahead of Its Time
In terms of technology, the Bentayga S has got you covered. And to make the experience truly future-proof My Bentley connected services come with wired and wireless Android Auto and Apple CarPlay, built-in Wi-Fi hotspot, online radio and real-time traffic information. Rear-seat passengers can also access features such as air conditioning and the music system using the Touchscreen Remote. 
Driver assistance features include the optional Touring Specification, offering Adaptive Cruise Control plus a head-up display, night vision camera and Lane Assist, which make long journeys easier and safer. And if that's not enough, the My Bentley smartphone app includes a number of remote access features, enabling you to find your car easily and even receive an alert if it is moved without your consent.
Personalised to Your Style
Of course, no review of the Bentayga S would be complete without a mention of the range of personalization options that are available. From the choice of seven standard exterior colours to the figure of around 60 extended range options, there are plenty of ways to make this SUV your own. You can even commission the brake callipers to be in black rather than the standard red. 
There is also a wide choice of interior hide colours, along with options for stitching, piping, and embroidery. Contemporary open pore woods, carbon fibre finishes and Dark Tint Diamond Brushed Aluminium are available as part of the veneer options. Other optional extras like the Front Seat Comfort Specification that offers winged headrests, seat ventilation, massage functions, and additional seat cushion and backrest adjustments, along with the Bentley Rear Entertainment system, deliver a truly bespoke driving experience.
The Bottomline
So, what's the verdict? The 2023 Bentley Bentayga S is a powerful and luxurious SUV that offers an unforgettable driving experience. With its stunning design, advanced technology, and personalised features, it is a vehicle for those who demand the best. Whether you choose the V8 engine or the V6 hybrid powertrain, the 2023 Bentley Bentayga S is an absolute masterpiece – the perfect combination of power, luxury, and technology makes it one of the most versatile and superior SUVs in the market. In conclusion, the Bentley Bentayga S is a stunningly crafted SUV that is designed to shine your presence wherever you go. With power and style to spare, innovative technology, and a range of personalization options, this is a vehicle that's sure to make a bold statement and a lasting impression. 
That said, if you are looking to experience this level of sophistication, performance and personalization at a fraction of the price, the best option is to buy a used Bentley in Dubai. Sun City Motors is a trusted dealer in Dubai that offers a wide range of luxury vehicles, including pre-owned Bentley for sale. With their exceptional customer service, you can be sure that you're getting the best deal on pre-owned luxury cars in Dubai. So, why not buy a used Bentley from Sun City Motors and experience the ultimate driving pleasure without breaking the bank? To learn more, follow Sun City Motors, on Facebook, Twitter, Instagram, and YouTube!