Sun City Motors Receives Runner Up Dealership Award from ENBD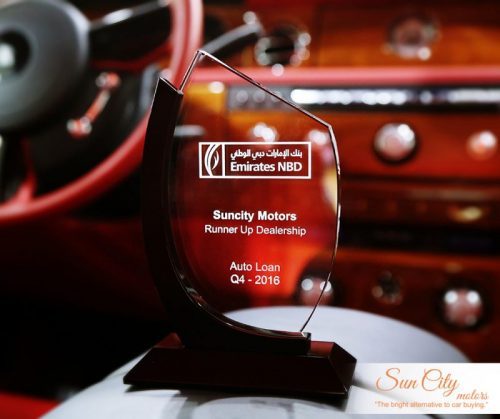 DUBAI, UAE—Sun City Motors has truly started the year with a bang after recently receiving the Runner Up Dealership Award for the fourth quarter of 2016 from Emirates NBD, one of the largest banking groups in the Middle East.
The renowned dealership for new and pre-owned luxury cars has been among the top companies who have done business with the bank during the past year, paving the way for them to be given the award.
Delighted to receive the award, owners of Sun City Motors, Mr. Rakan Turki and Mr. Abdel Qader Hani, said that it is the fruit of their hard work and dedication. This milestone is truly a good start for us this 2017 and is a confirmation that we are on the right track. For years, we have been providing customers with the widest variety of luxury cars at the most competitive prices as well as with outstanding services that make car buying or selling a smooth process. It's an honor to do business with Emirates NBD as they offer flexible finance options that make it possible for our customers to own their dream car.
Using the award as an inspiration, Sun City Motors strives to further improve its offerings this year to take the satisfaction of its customers to new heights. The dealership advises those who are planning to buy a luxury car this year to watch out for their latest deals and promotions.
###
Sun City Motors is a leading showroom in Dubai established in 1998. The company specializes in the buy and sell as well as trade-in of new and pre-owned luxury cars.For more information about the services we offer and to view our latest cars in stock, call +971 4 321 8655 or visit https://suncitymotors.net/.