Reasons Why the New Cars Market is Nothing Compared to the Used Luxury Cars Market in Dubai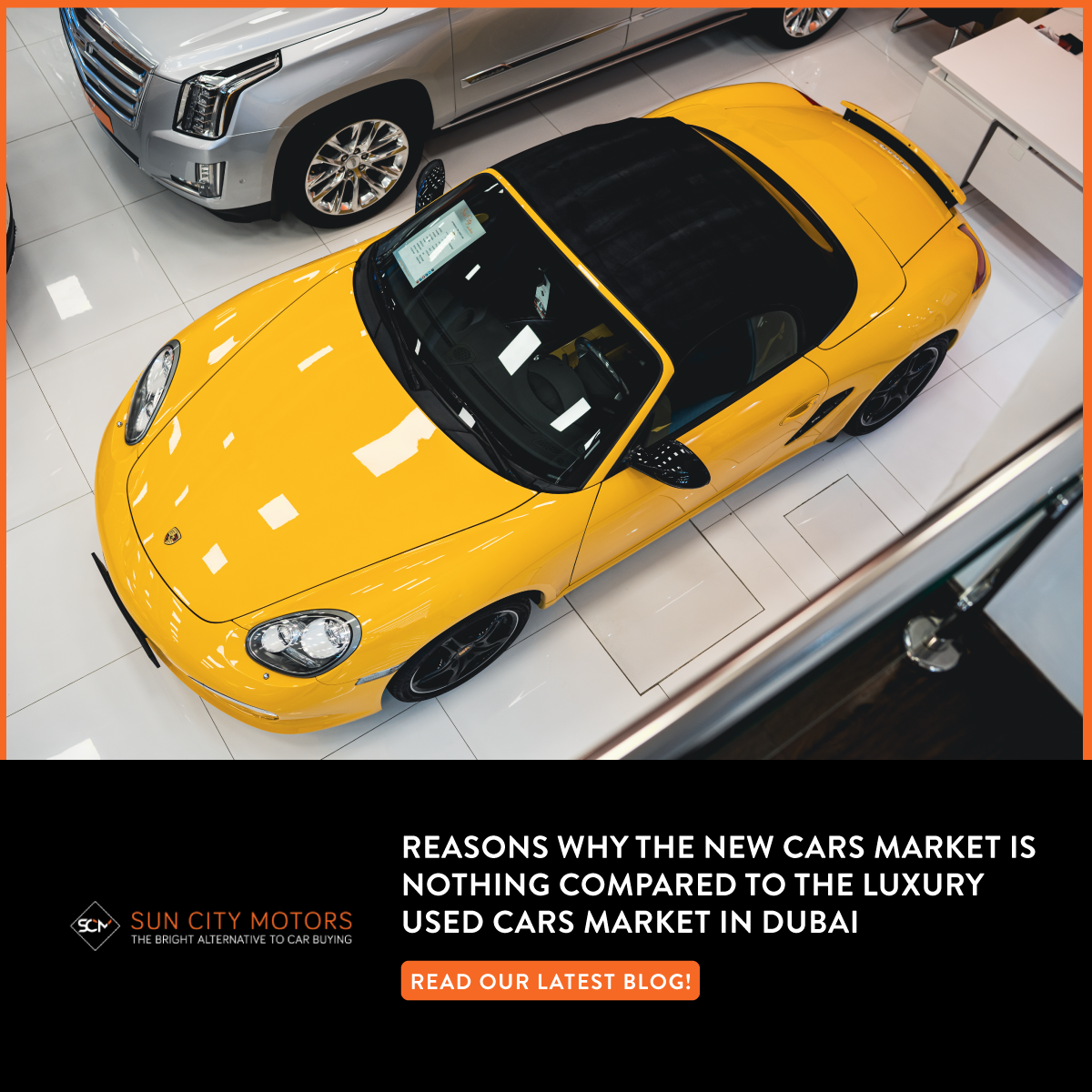 You will seldom find markets that behave differently in this world. The laws of economics simply do not tolerate outliers. The rarity of an irrational market makes things interesting, especially for buyers. The sheer number of such cases can be studied. Now, what does that have to with a used car market you might be thinking. The answer lies in the fact that the used car market in one specific region is so vastly different than others that it borderline forms an anomaly.
Dubai is a hub for commerce and culture in the Middle East. As a result, you will find an intersection of cultures and a booming economy. As more and more people flock to places like Dubai there is a booming demand for all the finer things in life.
You will not be accustomed to hearing the term used car in Dubai. However, we must point out that this is all but a fallacy. The used car market, especially used luxury cars holds far more value in places like Dubai than anywhere else in the world. You will not be able to distinguish between new and used cars in Dubai. Why? The following sections will illustrate the mechanism of the used luxury car market in Dubai and why if you are looking to purchase a vehicle, a used luxury car is an excellent idea.
The anomaly of the used luxury car market in Dubai
Over the years, Dubai has become an international commercial hub. It is a place where the wealthy come to conduct their business or indulge in life's finer pleasures. The sheer number of expatriates in the region means that lifestyles are vastly disparate. One of the hallmarks of a lavish lifestyle is buying cars, fancy cars. These cars, the majority of which are luxury cars happen to be very expensive items. You will find more luxury cars on the roads of Dubai than any European city.
So, how can there be a used car market in Dubai when the lifestyles are so lavish you might think? The reality is that a lot of these expatriates leave after a few years, some in even lesser time. Naturally, they leave behind things such as houses and cars. Hence, they get sold at much lesser prices than they were brought for. A lot of people also take out huge loans that they cannot pay back, the result is a vast number of luxury used cars in Dubai. So where do the used luxury cars go? To the massive market of used cars in Dubai.
Why does the used luxury car market exist?
So, if the lifestyle is lavish and there are people with a lot of money in and around Dubai, why will there be a used luxury car market? Dubai is a city of 3.3 million people and not everyone is rich. This means that there are still people looking to make smart purchasing decisions. If you are driving used cars in Dubai, they might as well be luxurious. The sheer number of options you get in this city means that you have a once-in-a-lifetime opportunity to drive a fantastic car for a price that is simply beyond belief. Luxury used cars in Dubai are an anomaly in many ways. You will be able to find all kinds of luxurious and sporty cars in conditions that make them as good as brand new and at a price that is simply far too less for the car. For those of you looking to snag a car, there is perhaps no better market out there.
Why should people trust the used car market?
So, why should you trust the used car market? Aren't they full of snide deals? Nope. All of these are expressions of a bygone era when people did not know what they were getting into. Places such as Sun City Motors represent a place of value. You will find a range of cars that you simply cannot find in a brand showroom. You will find cars in such good condition that you will be awestruck.
The market exists for a reason so that both the buyer and the seller get value. These days you can simply walk into a used car showroom and feel like you are standing in a brand outlet. Modern times mean that anyone can find out the right information for anything. Therefore, as a business used car markets need to be transparent. Especially, when we are dealing with used luxury cars. Imagine being able to buy a Mercedes Benz for the price of a Ford! That is the sort of deal you can get on used luxury cars in places like Sun City Motors. The used car market is a great place to make a smart purchasing decision.
Where can you buy the best luxury used cars in Dubai?
While there are many places you can find used luxury cars you need to be smart about it. You can often take a look at places such as classified ads, or various websites online. You will be able to find great offers and discounts, however, we believe that seeing a car in person, speaking to the dealership is the best case in order to navigate and learn about a used car in Dubai.
Sun City Motors is among the best places to get used cars in Dubai. From the pre-sales to the after-sales service, you will get a purchasing experience that is simply unrivalled. What's more, you will get a car that is simply too good at the price. Whether you want to get something on the lines of an affordable car or something along the lines of luxury used cars in Dubai there is simply no better place. You will be able to cherry-pick from a myriad of options. You will also be able to find cars that suit your lifestyle and budget better. What's more, the chances of you finding a car that offers you a full suite of features is far higher when you are looking at luxury used car options than when you are purchasing a new one.
Conclusion
The aforementioned reasons shine a light on the ever-growing luxury used cars market in Dubai. You will get a chance to drive your dream car without actually having to pay the full premium. There is virtually no other place in the world that can offer that same experience. To make a smart purchasing decision on a used car in Dubai, contact Sun City Motors today! And for the latest news, offers, and updates, follow Sun City Motors on Facebook, Instagram, LinkedIn, YouTube, and Twitter.