Is It a Good Idea to Buy a Used Porsche in Dubai?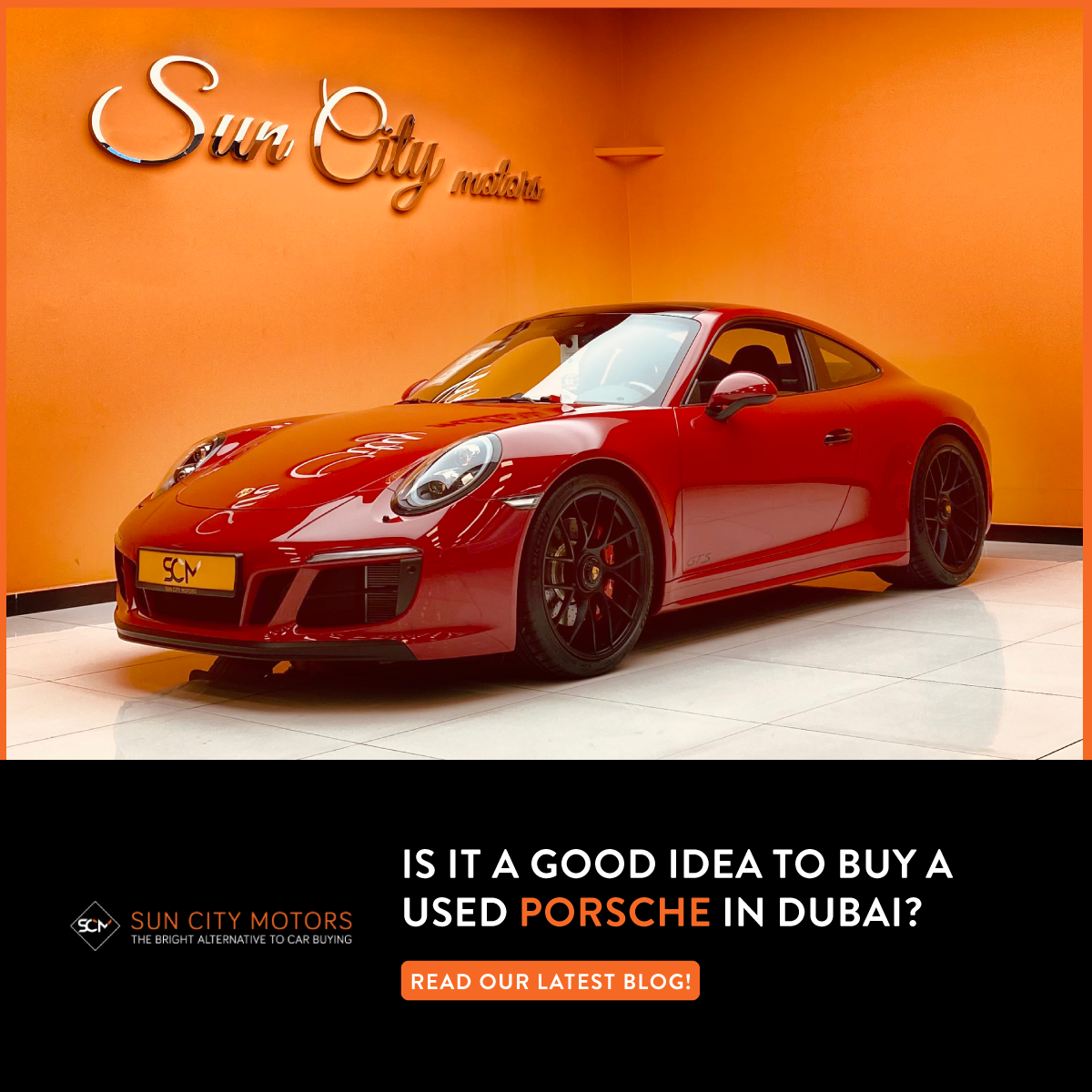 Going to and from places is something humans have been accustomed to since the dawn of time. Over the years, our means of transportation have steadily evolved and today you can get from one place to the other with relative ease. There are fundamentally many modes of transportation, however, when it comes to convenience, nothing can trump the utility of a car. Having a car means you get to travel wherever and whenever. There is also the matter of owning a car which showcases your status in society. As human beings, our societal stature is incredibly important. Owning a car, whether it is a new or a used Porsche in Dubai says a lot about how a person is doing in life.
So, the crucial questions are, what car should you buy? Why should you buy a used car? Is there utility in buying a car? Where can you buy used cars? The barrage might seem overwhelming at first, but as we break down the used car market, Dubai's bizarre range of cars, and lastly why you should buy a Porsche in UAE, you will get a clearer picture.
The growing used car market
Over the last two years, a few things have happened, mainly the pandemic has confined people to their homes and secondly, the increasing costs have limited purchases. The other factor is that technology has boomed so fast there is a global chip shortage. Yes, since the number of silicon chips is falling behind the demand, new things cost more and take more time. This has also affected the automobile industry. The combination of these factors means that cars are far more expensive than they used to be, especially new cars.
This has led to a lot of people actively looking for deals in the used car market. The value of used cars has since appreciated slightly and thus a strong market exists today. One Google search on used Porsche in Dubai reveals that there are tons of cars in the area. Yes, tons of used Porsches, on sale. As absurd as that sounds that is indeed the truth of the matter. The availability of a Porsche in Dubai is good for buyers that want to show their status. In a market that has grown rapidly, Dubai stands apart.
How Dubai stands at the confluence
Driving a Porsche in Dubai will never be too foreign, not too many prying eyes, just the right amount. You will also find that there are a similar amount of luxury and sports cars on the roads. The city of Dubai is simply that prosperous. The residents and expatriates are all quite wealthy and you get a sense that nothing is too extravagant in this city. To uphold the high standards of living, you will need to own a car that shows your status and relevance, luckily the used car market in Dubai offers some respite. The reason is that a lot of people sell their cars just shortly after buying them. The sheer economic prosperity in the region helps people buy something new quite frequently. This allows a lot of other people to save money and pick up a used Porsche in Dubai for a cut price. It is not that hard to own a Porsche in UAE, especially in Dubai.
A used luxury car is a statement
But since you are searching for used cars, is there a need to go out and buy a used luxury car instead? Well to answer it succinctly, yes. Owning a luxury car is a sign of high class. It is a sign that you make enough money to afford the finer things in life. The people around you will show you immense respect. You simply do not buy a luxury car for the sake of it. The cars are considerable investments and you have to carefully think. It shows that you have now acquired the taste for the finer things in life. You wish to elevate your lifestyle in society and through a luxury car, you are signifying that you have.
If you can get a luxury car for a discount, you should get it. The only way that is possible is through the used car market. You might be thinking as to how that even makes sense as used cars are well, used. We have already alluded to the bizarre nature of the used car market in Dubai, one of the things you can get in a used car in this city is minimal usage. Used luxury cars can come with just a few thousand or sometimes even a few hundred kilometers. That is unheard of and is the equivalent of buying a car that has just been test-driven a few times. A used luxury car is a statement in itself but in Dubai, the value you are getting is simply insane.
Why should you choose a Porsche?
The first important reason why you should choose Porsche is that it is part of the elite group of German manufacturers. The group of BMW, Audi, Mercedes Benz, and Porsche has been around for a while. Their names are extremely well respected and associated with luxury. The carmakers have been a mainstay in the automobile industry. Their vehicles are made of the finest materials and the design language for each manufacturer is so unique it has become their identity. You can easily identify these cars from a glance.
The Porsche brand stands apart. Their cars are simply far more elegant. They also make cars that are simply irresistible to look at. No matter the type of Porsche you take home, one thing is sure you get a luxury car that is a cut above the rest.
Where can you buy a used Porsche in Dubai?
So where can you buy a used Porsche in Dubai? There are so many places from where you can pick up a used car. Everything from classified ads to online directories and websites, the options are endless when you want to buy a Porsche in Dubai. However, we believe that through used car dealerships you get an ideal balance of assurance and price. If you head to a Porsche dealership, chances are you will get the best Porsche in UAE, even if it is used. The only drawback is the high cost. A pre-owned Porsche directly from the showroom will sell for a lot.
If you choose to visit a used car dealership, you will get a warranty, a much bigger discount, and a car that emanates luxury. What's more, you can rest assured that the condition of the car will be as good as new, even with a few miles on the clock. Dealerships such as Sun City Motors have the widest range of cars and have an impeccable history with customers.
Conclusion
It is a wise decision to purchase a used Porsche in Dubai. You get a car whose brand name evokes a rich feeling and commands respect on the roads. At a discount and in a condition that is as good as new, there's no thinking twice whether you should snag one. For the latest updates on all things used cars, follow Sun City Motors on Facebook, Instagram, YouTube, and Twitter.