How to export a car from Dubai?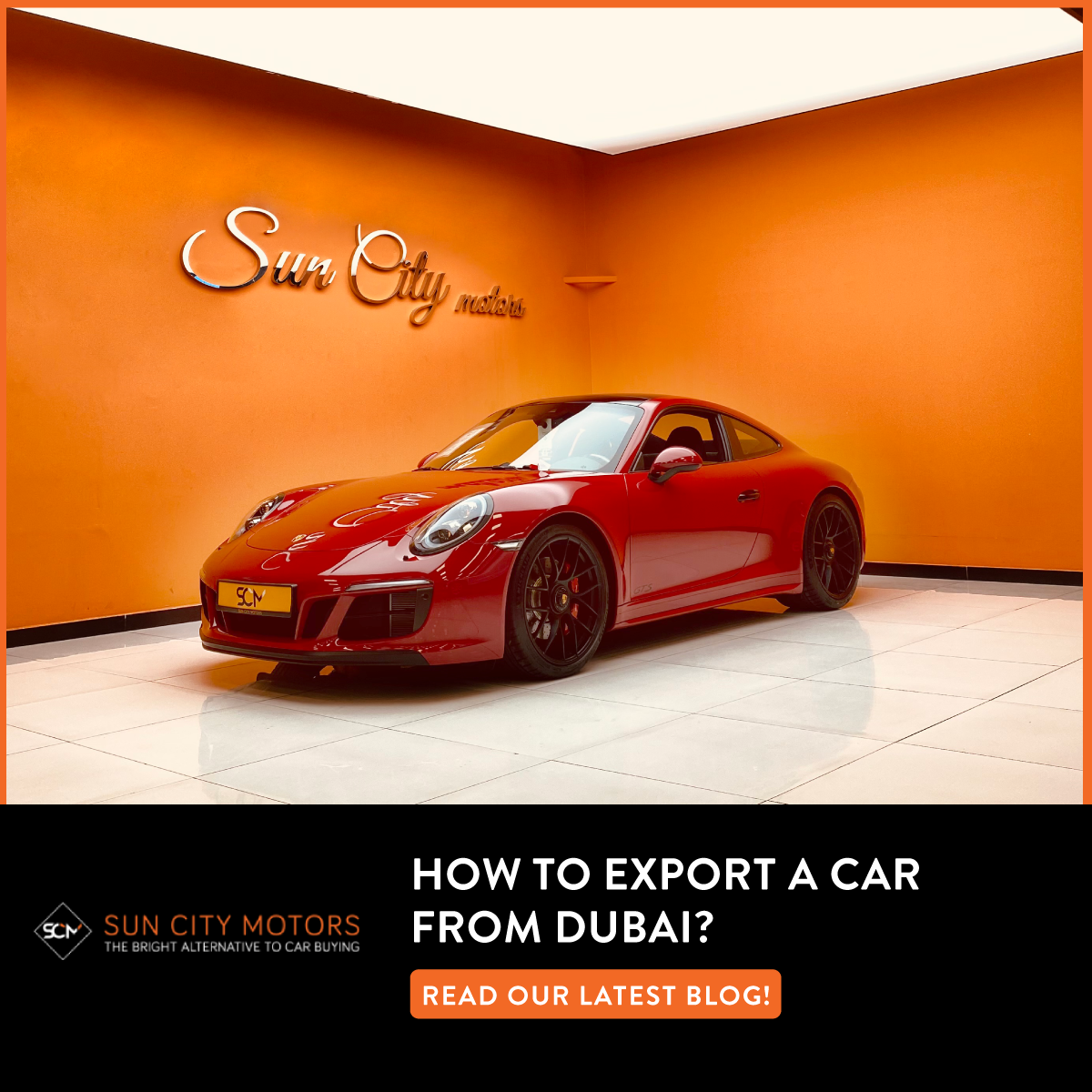 Coming to the UAE, driving around in your car, and yet having to leave it behind when you relocate can be a sad experience. It is a tough choice, however, you don't necessarily have to part with your car. There are multiple export options and you can easily get it to wherever you want. But since there is a lot of work to be done, people consider it a hassle and leave their precious belongings. Today we will break down how easy it is to get started with exporting cars from Dubai.
How to export a car from the Dubai
There are a multitude of methods of exporting cars from Dubai and the best way is to break it down into three methods of shipping.
Water
The easiest and cheapest way to ship a car anywhere in the world is by water. There are three types of cargo ship containers available on a ship.
Consolidation: Your car will be shipped with two or more cars in a single container.

RO-RO carriers: A dedicated ship for cars and the most economical option for exporting your car.

Dedicated container: The whole container is rented by you for the sole purpose of exporting your car. Here you can put everything else along with your car.
Air
If and only if you have a luxury car, should you think of exporting it by air. Airfreight is notoriously expensive. The biggest advantage, however, is quick delivery and security.
Land
If you are moving around the GCC, to countries such as Bahrain, Oman, and Saudi Arabia, you can choose a dedicated truck to have your car transported.
Can we export a car from Dubai to the UK?
Yes, but there are laws. The UK has very specific criteria that take into account the carbon emissions the vehicle might produce. So before you ship, you will need to have the following:
Emirates ID

Original Vehicle registration certificate

Mortgage release certificate

Documents that quantify the value of the vehicle

Passport/Visa of the shipper

Passport/Visa of the consignee

Vehicle insurance policy

Original export certificate
With these in place, you can now check if you fit the UK's bill for exporting cars from Dubai. Firstly, your car cannot be older than 10 years old. The vehicle also needs to pass the IVA test in order to get the driving permit. Along with the aforementioned documents you will need a bill of lading and certificate of origin. The cost of exporting can range between AED 7000 to 8000 and an additional 30% duty depending on the model.
What is the cost of exporting a car from Dubai to India?
If you want to start the process of exporting a car from Dubai to India, the good news is that it doesn't take too long. The proximity between the two countries means that it takes roughly one week for the car to arrive.
The Indian government will ask for two things, namely the ocean bill of lading and manufacturer's invoice, along with the other necessary documents. The cost of shipment is approximately AED 5000. This does not include import duty and taxes.
Conclusion
Now that you are clear about the rules of exporting cars from Dubai, you need to ensure that your car is eligible for export. As long as it is eligible, and you have the right documentation, you can take your car with you, wherever in the world you go. This guide was a simple introduction to how you can export your car from the UAE to the world.
The process will be much smoother if you choose to avail the services of a car export company. Also, keep in mind you will have to pay import duties and other charges depending on the country. Make sure that your vehicle is worth the price of the shipment. If you reckon your vehicle is old, you should take a look at options to sell it here in the thriving used car market of UAE, you will get a great deal. To learn more, follow Sun City Motors, on Facebook, Twitter, Instagram, and YouTube!