Ford is Saving Lives with its New Respirators in Light of COVID-19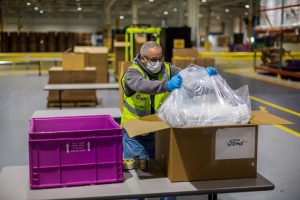 Photo Source: here 
Ford was among the first automakers to respond to the Covid-19 outbreak by volunteering to build masks, ventilators, respirators, and personal protective equipment. On April 13, 2020, Ford announced plans to expand the production of vital medical equipment and supplies for health care workers, first responders, and patients who are fighting coronavirus. Ford has already begun making three million face shields in Plymouth, Michigan and on April 14, 2020, the company's in-house powered air-purifying respirator started its production.
"We knew that to play our part helping combat coronavirus, we had to go like hell and join forces with experts like 3M to expand production of urgently needed medical equipment and supplies," said Jim Baumbick, Vice President of Ford Enterprise Product Line Management. "In just three weeks under Project Apollo, we've unleashed our world-class manufacturing, purchasing and design talent to get scrappy and start making personal protection equipment and help increase the availability and production of ventilators."
Around 90 paid United Auto Workers Union volunteers will assemble PAPR and N95 respirators at Ford's Vreeland facility near Flat Rock, Michigan with the ability to produce 100,000 or more. Ford developed the new PAPR respirator with the help of 3M to include a hood and face shield and an air blower system using a similar fan found in the seat of a Ford F-150. Work has started at Ford's Rawsonville plant to manufacture a third-party ventilator starting on April 20 and ventilator pre-production has also begun in the UK to satisfy the government's request for 15,000 units.
Meanwhile, Ford's Van Dyke Transmission Plant will continue making masks with the help of 30 UAW paid volunteers in the building's ISO Class 8 cleanroom. As production increases, 50 additional UAW workers will be brought in. Ford is also producing gowns at a rate of 75,000 gowns a week with the ability to scale production up to 100,000 gowns by the week of April 19. Finally, Ford is helping to expand the production of collection kits at Thermo Fisher Scientific.
"We are doing all we can to expand production and availability of personal protective equipment to help keep the true heroes – medical personnel – and our communities safe in the fight against Covid-19," said Adrian Price, Director of Global Core Engineering for Vehicle Manufacturing.