Financing Used Cars in Dubai: 4 Tips to Consider in 2022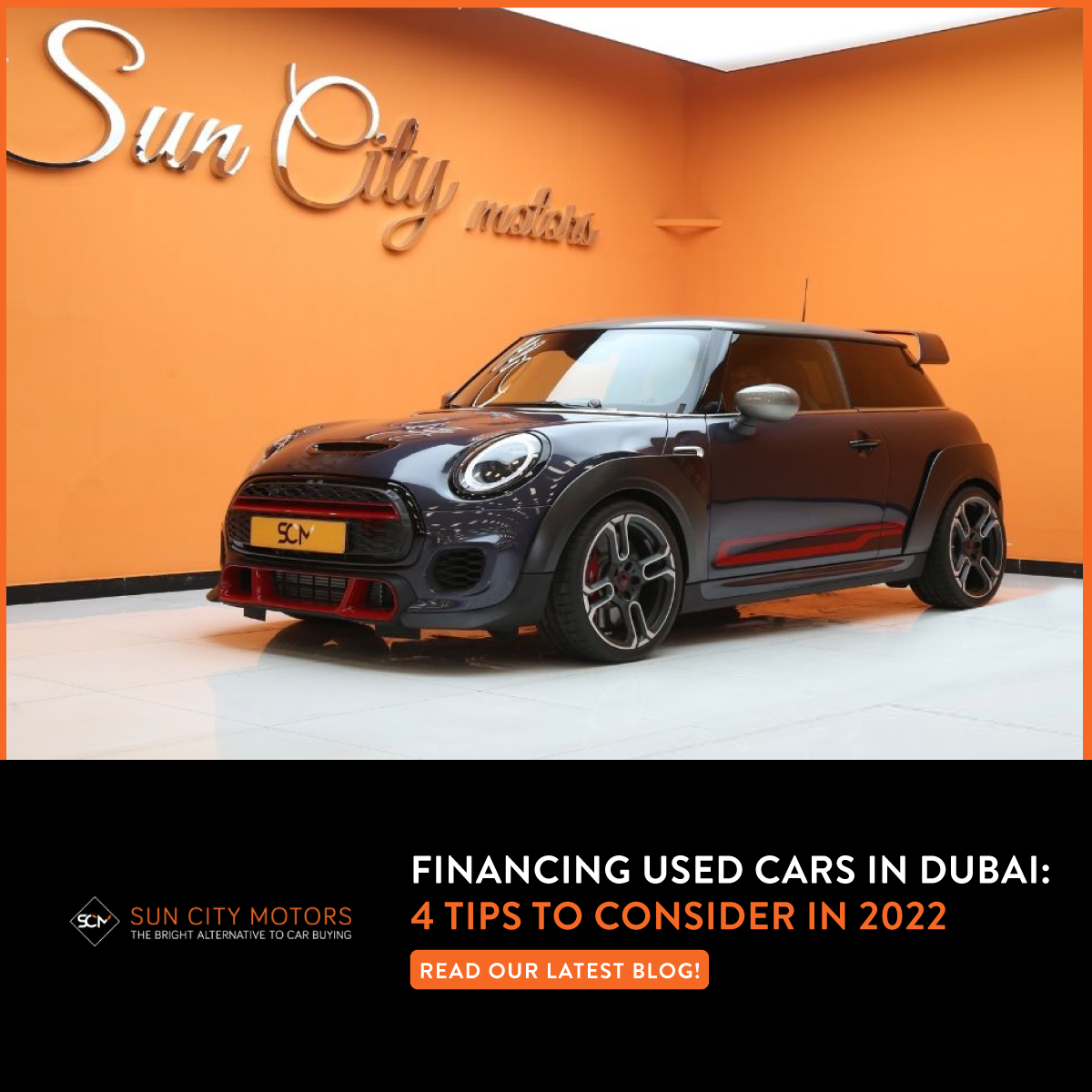 Finding the perfect car is easier said than done! You not only have to choose the best deal, but you also want to make sure you have all the necessary information. Similarly, used car finance can also be a daunting process, but with clear organization and careful planning it is possible to successfully secure a finance agreement that fits your needs.
While at first, buying a used car might seem like a simple and almost effortless process, if you don't weigh the pros and cons carefully, you could end up with a serious financial headache. With countless options on finance deals for used cars in Dubai, this article offers guidance on important financial considerations that must be followed so that you can find what will work for your wallet.
Tip #1: Do your homework
The first and foremost fact is that financing is not always easy or accessible. That's why it's important to do your homework and research the different options available to you.
Here are some tips on how you can finance a used car in Dubai:
-Look into car loans: Car loans are the most common way to finance a car purchase in Dubai. They come with adjustable interest rates and typically have shorter terms than other financing options.
-Consider leasing: Leasing is another option for financing a car in Dubai. With leasing, you pay an upfront fee, then gradually pay off the vehicle over time. There are a number of lease options available, including fixed-term leases and rolling leases.
-Explore other financing options: There are other types of financing available, such as personal loans and credit cards. However, be sure to investigate these options carefully before taking the plunge. You may find that one option is better suited for your needs than others.
Make sure you understand the terms and conditions of the loan agreement. This is important because some lenders will require you to make very large monthly payments if you don't meet your obligations. Make sure you understand what's expected of you before signing anything.
Tip #2: Examine options carefully
If you're in the market for a used car in Dubai, there are a few things to keep in mind. First, be sure to do your research and compare prices between different models and makes. Second, be sure to take into account your budget and what type of financing you will be able to qualify for. Third, remember that not all used cars in Dubai are created equal make sure to find one that meets your needs and fits your budget. Finally, always remember to get a car insurance policy while making a purchase.
Examine all your financing options carefully before settling on a car. You may be able to get a lower APR by using a credit builder loan or leasing, and you could also get a better deal if you buy the car outright. Dealerships in Dubai are always happy to help negotiate the best possible prices for you. There are also a number of car dealerships in Dubai that offer low-interest rates and flexible loan terms. So don't be afraid to ask around for advice before making a decision. If you're looking for a way to finance a used car in Dubai that also offers low-interest rates, private sellers might be your best option. You can find these people by going online or by asking around at your local dealership. Finally, be sure to get recommendations from friends or family members who have experience with car financing in Dubai.
The used car market in Dubai is constantly growing as people become more and more aware of the benefits of buying a used car. This is especially true for those who are looking to save money on their purchase. With a variety of lenders and financing programs available, it is important to do your research and find the best option for you. Some key factors to consider include the interest rate, down payment requirements, and the length of the loan.
Tip #3: Negotiate
If you're looking to buy a used car in Dubai in 2022, negotiating is key. The best way to do this is to be prepared with information about the car you're interested in, your budget, and the dealer's requirements. It may feel uncomfortable at first, but remember that you're getting a great deal on a car and you should be able to get it down to a price that you're comfortable with. Be persistent, but don't get too aggressive; it's better to walk away from the deal than to overspend.
You should also compare prices with other dealerships to get the best deal. This can be done online or in person at a dealership. Remember that if you're looking for a very specific make and model of vehicle from one dealership, chances are, the price will be a lot different than the price at another dealership. Be ready to walk away if you don't like the deal. Some dealerships will try to get you to buy the extended service plan, car insurance or add-on features that you didn't ask for in order to get you sold on the vehicle. However, these extras are usually optional and usually not worth buying in order to get the best deal on your vehicle purchase.
Prices may start high and drop as the deal progresses, so don't be afraid to ask for a lower price. Don't forget to factor in the amount of down payment you'll need and the terms of the loan. The sooner you can get approved for a loan, the easier it will be to get the best terms. Be sure to provide as much information as possible about your financial situation – including your credit score and monthly income – so that the lender can make an accurate assessment. And last but not least, always have a set budget in mind before you go car-shopping. You'll be able to find a great car at a better price without overspending on your set budget..
Tip #4: Consider trust and repute
Since many people in Dubai are seeking used cars that have been well-maintained and in good running condition, used car dealers will often have their customers ask for referrals from friends and family members who have purchased cars from them before. Ask around and see if anyone can recommend a reliable used car dealer in Dubai.
If you're looking to purchase a used car, don't rush off to the next dealership just because it's the next one on your list. Price ranges may vary from dealer to dealer, so be sure to pay attention to what you're being offered for your money. Try not to buy anything until you've made an appointment with an auto mechanic or a trusted friend who has purchased cars from that dealership.
Before you make a deal with a used car dealer, check the service documents or job sheets pertaining to the car being sold, so you can learn more about your prospective purchase. If a used car dealer doesn't have this type of confidence in his work, it's better to look elsewhere for your new vehicle. Find out what other people think about the dealership and their experiences purchasing vehicles from them.
Look at trusted and reputable sources of information to get an idea of the car-buying process in Dubai. Search for online forums and blogs that discuss buying or leasing a car in Dubai. By doing your research ahead of time, you'll be better prepared to make an informed decision about financing a used car in Dubai.
Conclusion
Buying a car in Dubai can be a daunting task, but with the right guidance, it can be a relatively simple process. First and foremost, be sure to do your research. There are plenty of reputable dealers in Dubai, but make sure you know what they offer and what the terms and conditions are.
Another thing to keep in mind is the cost of financing a used car in Dubai. Rates can be high, but there are a few options available if you need them. You may want to consider obtaining a loan from a bank or an online lender. Just be sure to compare rates and terms before signing anything.
Finally, remember that used cars in Dubai can be a great investment. But make sure you understand what you're getting into before making a purchase. For the latest news, offers, and updates, follow Sun City Motors on Facebook, Instagram, LinkedIn, YouTube, and Twitter.