F1 ABU DHABI GRAND PRIX: AMNA AL QUBAISI WINS FIRST FORMULA 4 UAE RACE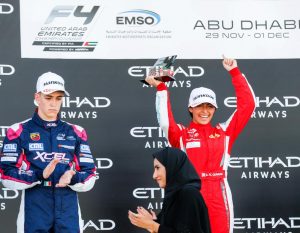 Amna Al Qubaisi in tears of joy after winning
Photo credit: Victor Besa / The National
Emirati driver Amna Al Qubaisi won the first Formula 4 UAE race at Yas Marina Circuit on the last Saturday of November in the first competitive event of the weekend.
She held the lead from the start after securing pole position in Friday's qualifier, ultimately establishing a commanding lead from the pursuing pack after being initially tested for the top spot. Amna's sister, Hamda, was fifth. The sisters' parents, Khaled and Kawthar, celebrated as their eldest daughter crossed the line ahead of second-placed Nicola Marinangeli of Xcel Motorsport.
The victorious Abu Dhabi Racing driver jumped out of her car after coming to a halt in the pit lane, pointed to the sky, then leaped down from her car and hugged her parents across the safety barriers. Before the race, both sisters had received a kiss from their mother for luck.
Khaled Al Qubaisi, a noted Emirati driver who has competed in grand touring races including the Dubai 24 Hour and the 24 Hours of Le Mans, said afterward he was "extremely proud of my daughters".
"They made the whole UAE proud today, and that's all that we wanted – to raise the UAE flag up high in this extremely important event held in our beloved country. This is a crowning moment of all the efforts that went into getting them to this point. Thanks to Sheikh Mohammed bin Zayed for supporting motorsports and young talent."
The placings of the elder Al Qubaisi and Marinangeli seemed secure in the early part of the 25-minute race, but the battle in midfield was a much tighter affair.
Hamda Al Qubaisi lost out on a fourth-place to Jordanian driver Manaf Hijjawi of Dragon Racing, who fought back from eighth place. Portugal's Rodrigo Almeida, another Xcel Motorsport team member, took seventh followed by Dream Racing's Logan Hannah. Mehrbod Shameli and Constantin Reisch completed the top 10.