Exploring the Latest Features and Upgrades in the 2024 Porsche Cayenne Line-up in the UAE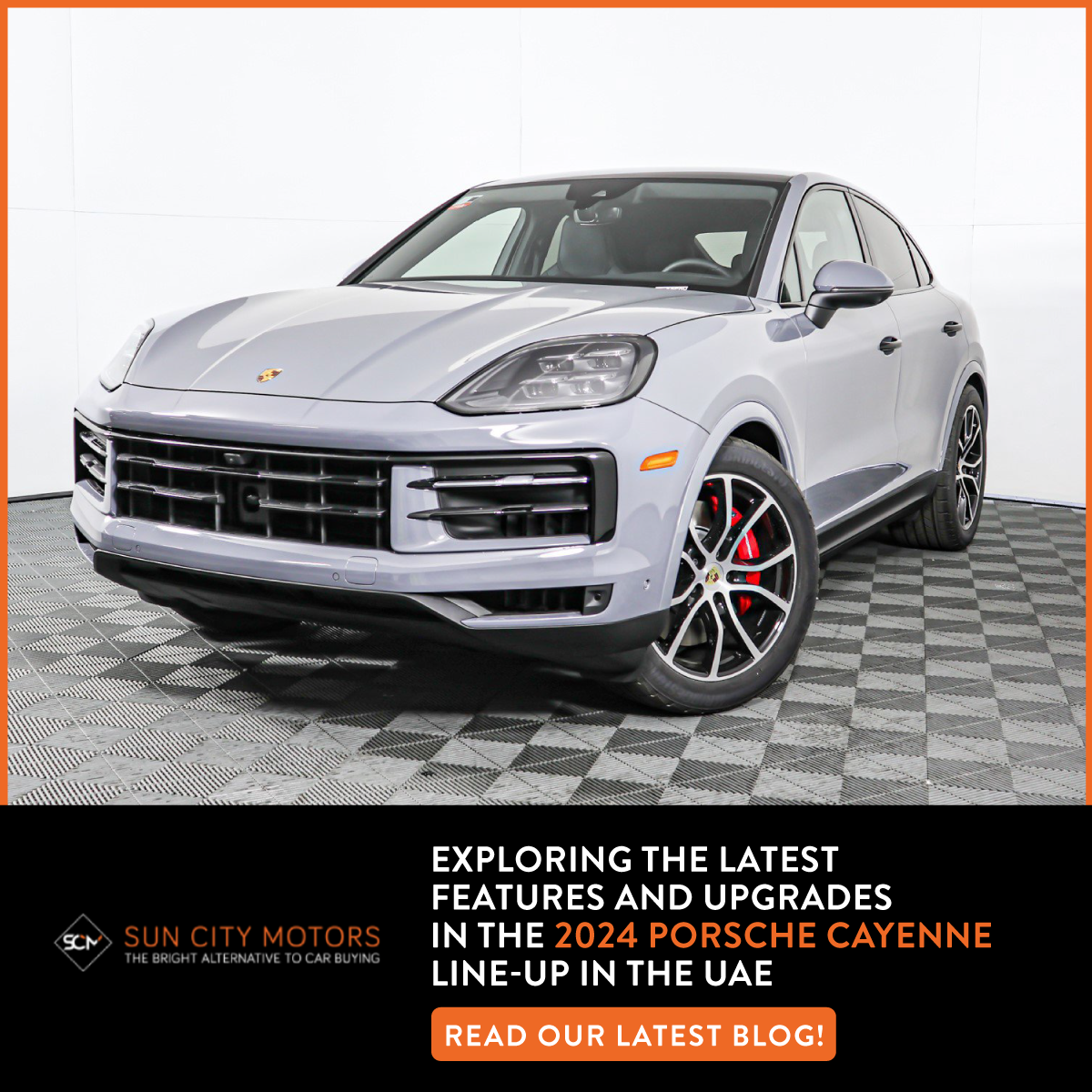 Introduction
The 2024 Porsche Cayenne stands at the intersection of artistry and precision, with luxurious designs and groundbreaking innovations that inspire awe and envy on the roads of the UAE. For potential owners and car aficionados alike, every curve, interior stitch, and roaring of the engine tells a story of craftsmanship, an ode to uncompromising quality and meticulous design. In this blog, let's explore the fascinating universe of the latest Porsche Cayenne, with particular emphasis on what the 2024 model brings to the streets of the UAE.
Aesthetic Evolution
Draped in an aura of sophistication and performance, the 2024 Porsche Cayenne presents an aesthetic evolution, seamlessly marrying traditional Porsche design with avant-garde elements. The fresh, daring approach to its body styling and dynamic lines reveals a physical embodiment of speed and luxury. The enlarged and more streamlined air intakes underscore its performance prowess, while the redesigned rear, adorned with a striking LED taillight strip, broadcasts a confident, bold presence on the road. Whether it's cruising along Sheikh Zayed Road or gracing the parking lots of Dubai's opulent hotspots, the Cayenne promises to turn heads and ignite admiration.
Interior Upgrades
Step inside, and you're enveloped in a world where meticulous attention to detail and pioneering technology coexist. The Cayenne's interior serves as a benchmark for luxury SUVs, enveloping occupants in a realm of opulent comfort and state-of-the-art tech. The infotainment system, now with tactile and visual feedback, ensures interactions are intuitive and satisfying. Seats, designed for supreme comfort, are cloaked in the finest leathers, providing both aesthetic and tactile delight. The customizable ambient lighting allows occupants to tailor the cabin's aura, creating an environment that resonates with their mood and journey.
Power & Performance
The 2024 Cayenne does more than just move; it advances with purpose and power, offering an adrenaline-infused driving experience, complemented by an aura of control and stability. Porsche, relentless in its pursuit of unparalleled driving experiences, has engineered a spectrum of engines, each delivering a unique blend of power, efficiency, and emotion. Whether it's the agility of the V6 or the pulsating power of the V8, every journey transforms into an event. The signature Porsche performance, manifested in rapid accelerations, fluid handling, and reassuring brakes, is vividly experienced in the new Cayenne, allowing drivers to navigate the UAE's varied terrains with impeccable finesse.
Advanced Driver Assistance
Traveling through the eclectic landscapes of the UAE, from its metropolitan arteries to the serene outskirts, the 2024 Cayenne ensures your journey is not only luxurious but also exceptionally safe. Advanced Driver-Assistance Systems (ADAS), such as lane-keeping assist, adaptive cruise control, and a comprehensive network of sensors and cameras, amalgamate to form a cocoon of safety. The enhanced 360-degree cameras prove invaluable, especially when navigating through Dubai's bustling city spaces, ensuring every maneuver is executed with precision and confidence.
E-Hybrid Variant
Amidst the serene desert landscapes of the UAE emerges the E-Hybrid variant of the Cayenne – a beacon of Porsche's commitment to a sustainable future without compromising performance. The E-Hybrid not only reduces your carbon footprint but also serves a dual purpose by providing a whisper-quiet, emission-free driving experience for inner-city journeys and a powerful combustion engine for longer drives. The augmented battery capacity and expedited charging capabilities cater to the modern, eco-conscious driver, ensuring that sustainability and performance coexist in harmonious unity.
Customization Options
Cayenne owners are not just drivers; they are curators. The extensive customization options allow each owner to imprint their individuality onto their vehicle. From the exterior's vibrant or subtle color palettes to the interior's various leather and trim options, every aspect can be tailored. The personalized Cayenne is not just a vehicle; it becomes a personal expression, a moving, powerful artwork reflecting its owner's style, passions, and aspirations, creating a uniquely personal bond between machine and driver.
Tailored for the UAE Market
Porsche exhibits an astute understanding of the unique driving conditions and user preferences of the UAE. Tailored features such as enhanced air conditioning, robust protective exterior coatings, and interior materials designed to resist the rigors of the hot sun, illustrate a thoughtful adaptation to the region. This commitment to customization ensures that the Cayenne is not merely a European import but a vehicle attuned to the nuances of the Emirati driving experience.
Conclusion
Purchasing a Porsche is not a transaction; it's an induction into a world of luxury and performance. And Dubai car dealers, particularly Sun City Motors, serve as gateways to this world. Known for their impeccable service, vast inventory, and expertise in luxury automobiles, Sun City Motors ensures that the path to owning a Porsche is as luxurious as the drive itself.
The 2024 Porsche Cayenne, a symbiosis of elegant design, formidable power, and innovative technology, stands tall in the luxury SUV domain. For those who seek the spirit and prestige of Porsche without the new car price tag, procuring a used Porsche Cayenne in Dubai emerges as an astute option. 
Choosing a pre-loved Porsche Cayenne means embracing a vehicle that retains its quality, performance, and allure over time. As one of Dubai's premier used luxury car dealers, Sun City Motors offers a meticulously curated collection of used Porsche Cayennes, each subjected to rigorous checks to ensure quality, reliability, and customer satisfaction. 
With a reputation built on trust, transparency, and a passion for luxury automobiles, Sun City Motors transcends being a mere dealership, evolving into a haven where the spirit of Porsche is celebrated and shared. So, whether new or used, the journey into the world of Porsche is a timeless adventure, and with reputed dealerships like Sun City Motors, it's an adventure that will be cherished for years to come.