Emirates Airlines' Newest Fleet to Use BMW Vehicles for Business Class Chauffeur Service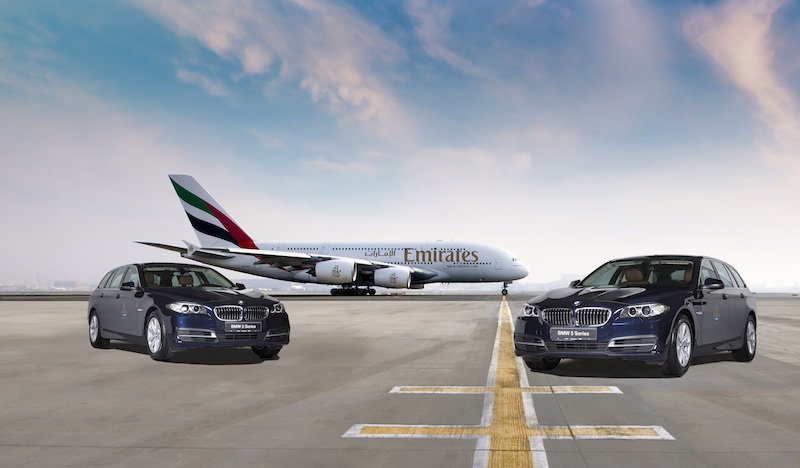 Emirates has recently revealed that it will start using BMW cars for its chauffer service for business class passengers in the UAE, where Volvo cars has been used for the service.
According to a statement, the new fleet, which features BMW 520i Touring cars, is being launched from now until the end of the year, as the previous fleet of cars are retired.
The BMW 520i Touring, which comes with a generous luggage space, is touted as the 'most connected vehicle in its segment', with options such as a WLAN hotspot for wireless charging and mobile devices.
In a statement, Johannes Seibert, managing director of BMW Group Middle East, said that their common goal is to improve the passenger's travel experience even further—by ensuring a luxury experience throughout their entire journey—from ground to sky and back.
Emirates Airlines' chauffeur-drive service is a complementary ground transfer service available to customers travelling in first or business class and is available in more than 75 of its destinations worldwide. The airline's car fleet upgrade is part of its ongoing investment in products and services–onboard and on the ground.
Earlier this year, Emirates revealed a multi-million dollar cabin interiors upgrade program for both its Boeing 777 and A380 fleet. As part of its program, the airline launched an improved onboard lounge for its Airbus A380 aircraft. Debuted at trade fair ITB Berlin in March, the lounge is slated to make its operational debut next month.
Just recently, the carrier also announced that it will roll out a new first class product for its Boeing 777-300ER aircraft at the much-anticipated Dubai Air Show in November.
The new first-class cabin will come with six private suites laid out in a 1-1-1 layout, compared to the existing eight private suites in a 1-2-1 layout on Emirates' existing 777 fleet.
Emirates' new Boeing 777-300ER will also reportedly come with other new features in the business and economy class cabins.
 
Source: https://goo.gl/X04bua