Sheikh Mohamed bin Zayed Emirates Road New Speed Limits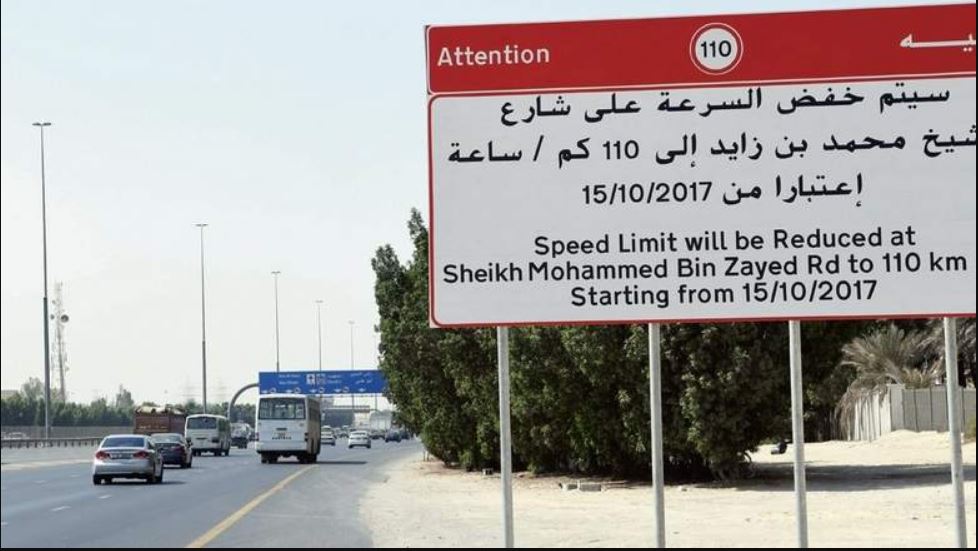 In efforts to reduce and/or prevent traffic accidents and improve the safety of road users, the Roads and Transport Authority (RTA) and the General HQ of Dubai Police have implemented speed reduction limit on the Sheikh Mohammed bin Zayed Road and the Emirates Road in Dubai from 120 k/h to 110 k/h on October 15.
A periodic review is performed to speed limits on some highways and streets in Dubai to adjust the speed limits up or down depending on the road condition and the surrounding environment, in coordination with strategic partners.
The RTA and Dubai Police are also coordinating a number of preventive measures to maintain the safety of road users. These include changing the speed limit signs to 110 k/h instead of 120 k/h and the directional and awareness signage, which govern the traffic relationship between road users. They are also adopting key global standards and practices to ensure safe and smooth transport for all.
The decision, which was made last month, is aimed at curbing traffic accidents caused by speeding. According to the RTA, the procedure of controlling speed limits is based on a number of criteria highlighted by the designed speed of the road and the actual speed observed by drivers.
In a statement, Major General Eng. Advisor Mohammed Saif Al Zafeen, assistant commander-in-chief of Dubai Police, said that lowering the speed limit on the Sheikh Mohamed bin Zayed Road and Emirates Road is a result of extensive studies performed by the Dubai Police and RTA.
He noted that during the first half of this year, 99 accidents took place on Sheikh Mohamed bin Zayed Road resulting in six fatalities and 78 injuries. "Last year, the road saw 196 accidents resulting in 33 deaths and 249 injuries. As for Emirates Road, it witnessed 40 accidents during the first half of this year resulting in 10 fatalities and 75 injuries. Last year, the same road saw 86 accidents involving 29 deaths and 147 injuries."
Meanwhile, in accordance with Lt. Soud Al Shaibah, director of traffic awareness at Sharjah traffic department, there are no plans yet to change speed limits on Sheikh Mohamed bin Zayed Road and Emirates Road as there was no need to do so. He also noted that any decision in this matter would be taken by the federal authority.
The current speed limit on both these roads is 120 kmph, and radars are set to flash if vehicles reach speed of 141 kmph or above.
Source: https://goo.gl/ds582F