BMW vs Mercedes Benz: the Battle for Dubai's Best Convertible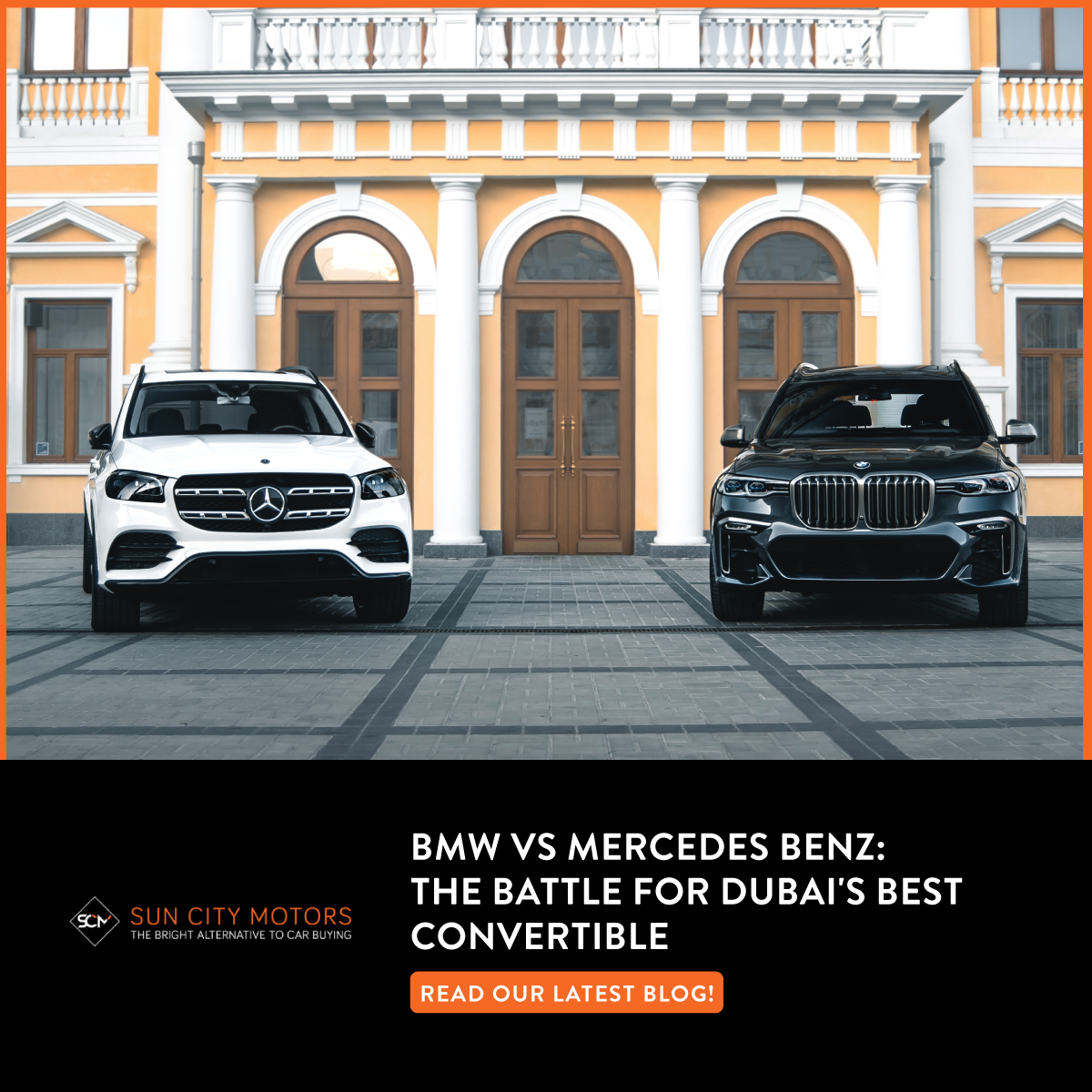 The world of luxury cars in Dubai is nothing short of spectacular. It is the one city in the world where you will find every single exotic car in existence. Here even the most renowned luxury car brands such as Mercedes Benz and BMW feel like common road cars. It is a bizarre city, where the prestige of the brand never fades, and yet it becomes a common occurrence.
Despite the increase in the number of affluent people that reside here, one trend is emerging and that is the utility of the used car market. The pandemic has hit everyone hard and the global chip shortage only helps push the envelope of car prices. As a result of these factors, people are buying used cars, and to be precise, used luxury cars. The demand for the latter has skyrocketed. From the broader segment, there is a niche that people are looking at, convertibles. But why is it gaining traction? Should you consider or get one? And why a used convertible? What about the brands? These are some of the burning questions that you may have. We will answer them all, so read on and find out.
Why should you get a convertible?
The first thing you need to know is how certain types of cars can stand out. We have already discussed that even the most exotic cars are nothing new in Dubai, however, they still turn heads. This is thanks to their impeccable design and great colour scheme. Now another type of car that genuinely manages to turn heads is the convertible. A car without a roof on the roads, will more often than not command attention. You are more than likely to see the car's insides in all its glory and since it is uncommon, you will stare.
This is the appeal of a convertible. It is a car that can stand out anywhere. More than that you get the quintessential top-down experience of driving. Wind in your hair, the sun shining above you, and the picturesque 360-degree views only you are privy to, are just some of the appeals behind a convertible. For there are many used luxury cars in Dubai, however, if you truly want to stand out, a convertible is the right choice.
There is also the matter of car brand, you will find that convertibles do not come with fancy price tags. Take a look at listings for used BMW for sale in UAE or used Mercedes for sale in UAE, and chances are you will also find that both brands offer an array of convertibles.
Why should you opt for a used luxury car?
Now, we come down to discuss the value proposition of a used luxury car. In a city with an exorbitant amount of luxury cars in Dubai, the question remains, what value does a used luxury car even offer? You will be surprised to learn that it offers more than just monetary value. A used luxury car is a status symbol. You are paying to upgrade your lifestyle more than you are paying for a car. A used Mercedes Benz or a used BMW, commands far more respect than owning a used Toyota or a used Ford.
Secondly, you get unrivalled comfort, quality, and performance. These are things people do not often look for in used cars. But as soon as you attach the luxury moniker, things change. Your car prospects become expansive and you start to see the true value of owning luxury cars in Dubai. Add to that, the convertible nature of used luxury cars and you are entering a whole new territory of prestige.
The two rivals
Now, the idea is simple, buy a used luxury car, and make it a convertible. The choices are aplenty, but for those on a smaller budget, the options are quite simple. Trust two brands, Mercedes Benz and BMW. The German carmakers command a majority of the market for luxury cars in Dubai and naturally, their convertible offerings are great.
Mercedes Benz
The German carmaker has often been associated with being the best carmaker in the world. Their design philosophy is simply irresistible, the build quality is par excellence, and comfort is world-class. There is very little that Mercedes Benz gets wrong. They also have amongst the widest catalogue of luxury cars in the world.
Everything from their A-class to the S-class is coveted. Mercedes knows the market well and have done their best to offer convertibles in every category. You can snag a used Mercedes for sale in UAE hailing from as old as the mid-2000s. There are plenty of convertible Mercedes Benz cars that come on a budget. Compared to any other used car they will be comfortable, come with better durability, and top-tier performance. Even the models from as far back as 2011 will outperform new affordable cars. There is something simply different about owning luxury cars in Dubai and Mercedes Benz offers the best options, especially if you are looking for a convertible.
BMW
Now in terms of heritage, the Mercedes Benz will outshine a BMW, however, it cannot hold a candle when it comes to the iconic imagery of a BMW. They make memorable cars period and one of the cars that have come to define the very segment of convertible cars is the Z-series. The Z4 and Z8 have adorned the walls of kids from around the world and what better way to appease your inner child than to snag one!
The appeal of a convertible is simply unmatched. You will feel giddy, looking at one, especially if that car happens to be a BMW. The iconic grille, the curved hood, and the short-stopped rear have been the poster child of the convertibles. You will be hard-pressed to find a car with such appeal. The good news is that amongst the used BMW for sale in UAE the catalogue does consist of convertibles. You will have to dig deep to get the model you want. But if you want to own the finest luxury cars in Dubai, you cannot go wrong with a used BMW convertible.
Our Verdict
We think that a convertible is amongst the best cars to buy if you are looking for a status upgrade. You get the fun factor, powerful engines, and classy addition to your garage. When you look at luxury cars in Dubai, you are more like to spot convertibles than any other type of car. The top-down, flowing hair feeling you get from a convertible is unmatched. Be it a BMW or a Mercedes, the appeal is the same. However, if you are looking for the ultimate wow factor, choose a BMW. Their iconic Z series is what defined the convertible segment for a lot of people and that makes it the most natural choice. Used car dealerships are the best places to go if you want a solid deal on used convertibles. Places like Sun City Motors have an extensive catalogue of luxury cars in Dubai, which includes some of the finest convertibles in the city. To learn more and to stay updated on the latest deals, follow Sun City Motors on Facebook, Instagram, YouTube, and Twitter.