Aston Martin's Next Vanquish: 700-HP Mid-Engine Supercar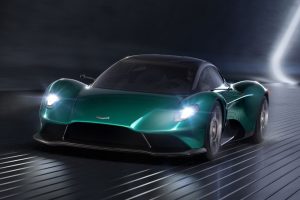 Photo Source: here 
Aston Martin's next Vanquish will be a mid-engine supercar targeting the defining dream machines of the moment — cars such as the Ferrari F8 Tributo, Lamborghini's Huracán replacement, and the McLaren 720S and 765LT. Previewed by a concept car at the 2019 Geneva auto show, the Vanquish should start in the range of $300,000 or AED1.1 M when it arrives in 2023.
Insiders say the Vanquish uses a version of the new hybrid engine that Aston Martin is developing internally, combining a turbocharged V-6 with a generous level of electric assistance. A hybrid six in this sector is risky, so don't expect the company to take any chances with output, which will exceed 700 horsepower. Underneath the shapely body will be a bonded-aluminum spaceframe similar to what's under the brand's existing models but with the order of passengers and engine reversed.
Aston Martin sees the Vanquish as a way to broaden the brand's appeal as demand for its traditional front-engine models falters. The Vanquish takes inspiration from the Valkyrie and Valhalla, which are being co-­engineered with Red Bull Racing, but Aston Martin is developing the ­Vanquish alone.
The DBX SUV will have to be an immediate success for the Vanquish's development to go much further, and the mid-engine triumvirate of Valhalla, Valkyrie, and Vanquish is sure to generate lots of interest among car enthusiasts.