7 Benefits of Buying New Parts & Accessories for Used Cars in Dubai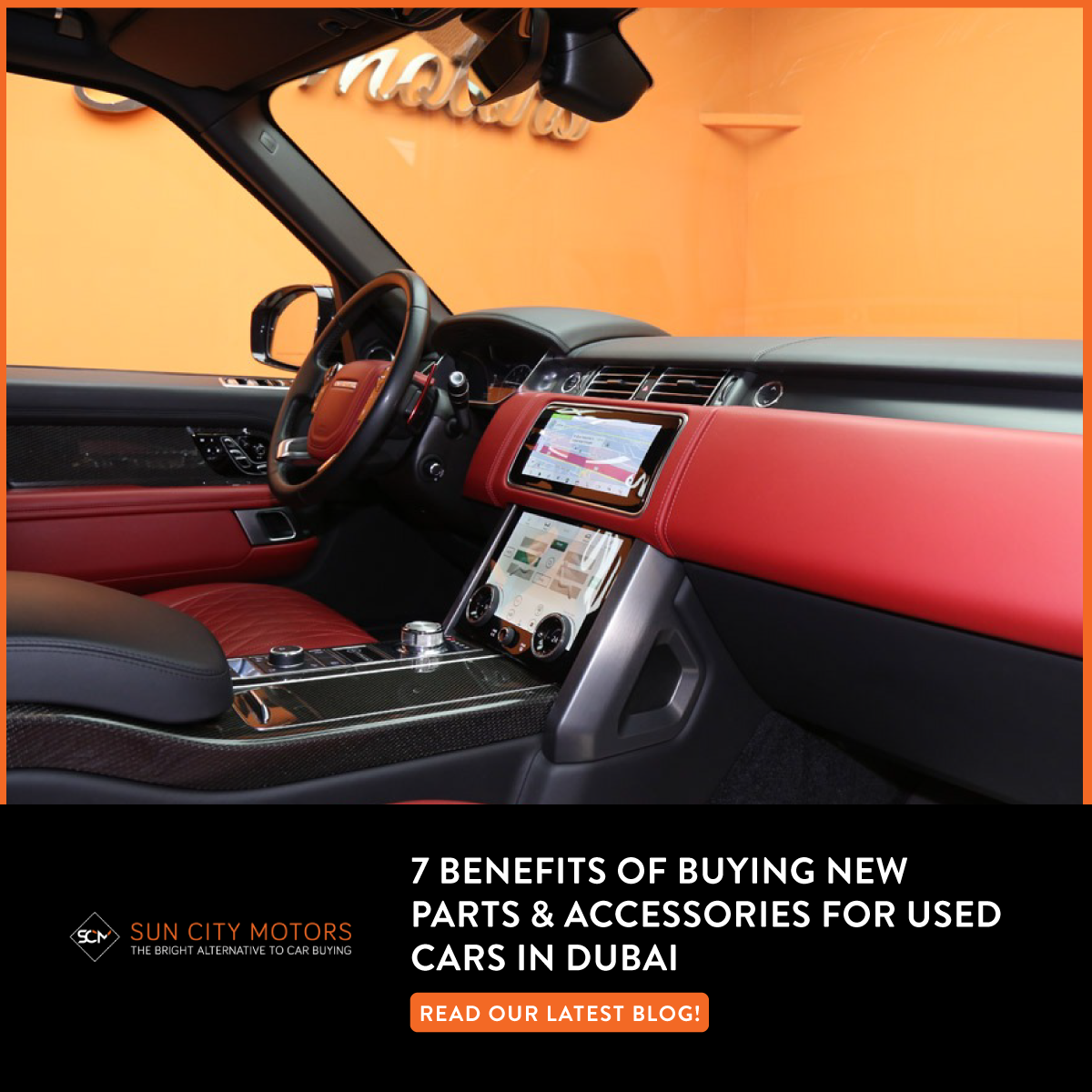 If you are looking to buy a car you might be concerned by the rapidly changing global scenario. Buying a used car in the UAE can be the right solution for you that offers the perfect balance of budget and style.
The highlight of buying used cars is that you get the most bang for your buck. If you get a car in an almost new condition, you will get the maximum value for your purchase. Moreover, you can always keep adding new parts to make your car feel new. In fact, regular maintenance along with replacing and upgrading the right parts increases the value of used cars in Dubai.
Why is buying new parts and accessories important?
Now, not every one of us wants to buy new parts and accessories for a car. Sure some of us do not mind the old feel of a used car but there are certain things we can do to make the car feel new and more like our own. One of the first things we can do is to get new parts and accessories for used cars in Dubai.
The 7 benefits of having new parts and accessories on a used car
1. Personal feel
Cars are a reflection of your personality and this belief extends to parts and accessories as well. Whether you're planning for aftermarket upgrades or simply replacing old worn out parts, the way you personalise the looks and performance of your car can speak volumes about your character and make your car that much personal.
2. Improves the car
No matter the age of the car, new parts and accessories can make any vehicle look and feel new. Be it cosmetic or performance enhancements, any upgrade can significantly improve the driving experience and make your journeys even more pleasant.
3. Upgrades in important areas
Now, it may not be a necessity to upgrade your car. But you can always upgrade parts and components, especially if you feel that there could be a chance of a problem or something wrong with the vehicle. Upgrading important parts and useful accessories can greatly improve the performance and life of the car.
4. Added safety
Another key reason to add new parts and accessories to a used car is to improve safety. You do not want any kind of outdated components in used cars in Dubai. The standards for on-road safety have increased significantly and you should have a car that matches those criteria.
5. Better road and traffic adherence
Used cars in the UAEÂ are expected to adhere to the latest highway codes and traffic regulations. As a country that is becoming a global hub for commerce, road rules are constantly changing. Adding the latest parts and accessories may help your used car stay longer and safer on the road.
6. Adds value for resale
A very important point, every new part you purchase and replace helps increase the resale value of the vehicle. You may think that there is no point in doing this but a wise decision would be to add new and necessary parts to your used car. Doing this can help lengthen the life of your car and ensure that you get the right price when you need to sell the car.
7. Future buyers will appreciate the effort
Lastly, if your car is in decent condition, chances are you will be able to use it for a longer period. Despite facing the test of time, there will still be more life left in the car. By adding new parts and accessories to your used car, you are not only increasing the value of the car but also doing a future owner a favor.
Conclusion
Visit Sun City Motors to check out the best selection of used cars. And to learn more about the latest offers and deals, follow Sun City Motors on Instagram, Facebook, Twitter, and YouTube!