6 Tips When to Sell a Used Car in the Dubai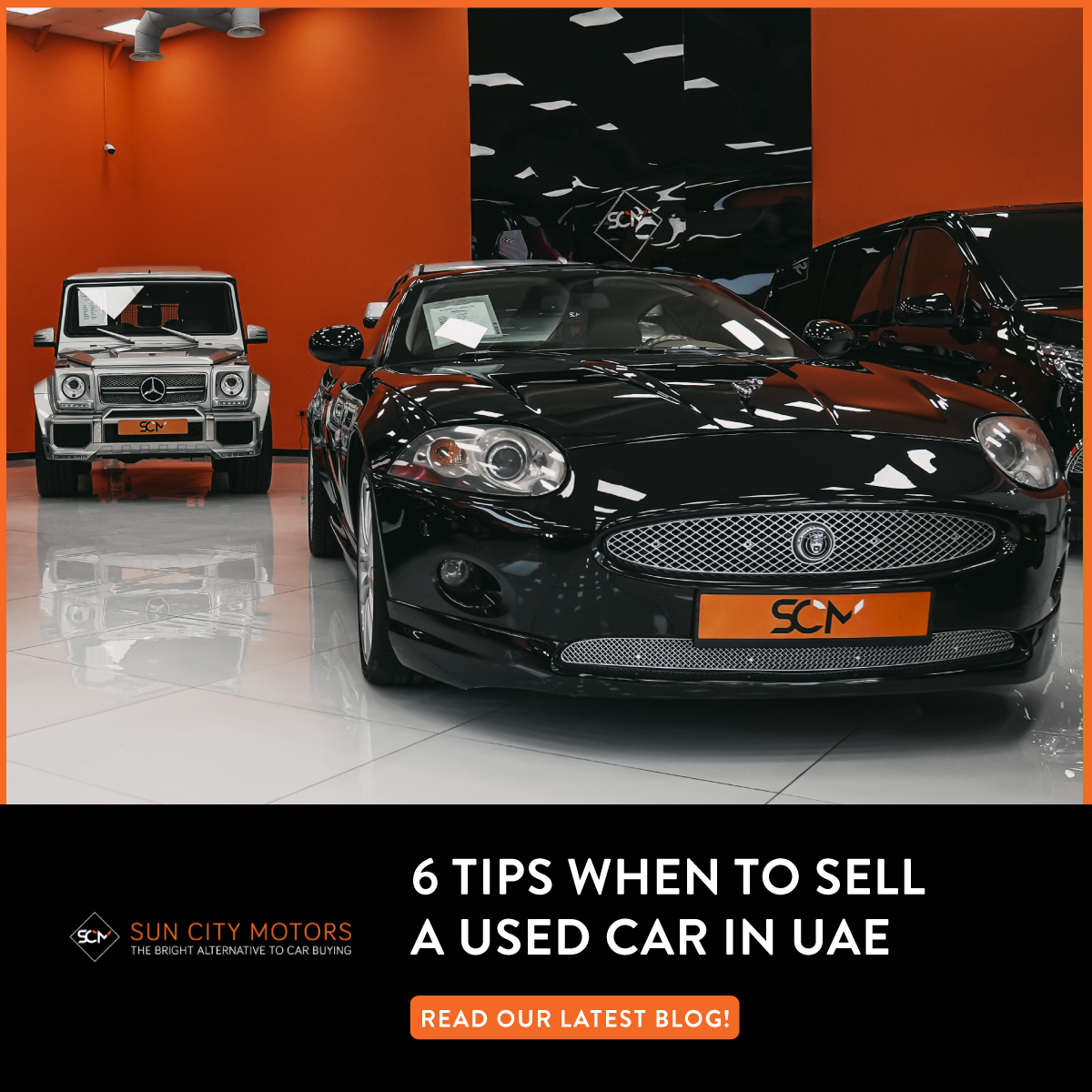 So, you want to sell your car but have no clue where to begin. Do you go to the classifieds? Do you just put up an ad online? Or do you contact family and friends to see if anyone is willing to buy a car?
While all of these are good ideas, you will not be able to get the maximum value out of your car. To do so, you need to factor in various things. It is not easy to sell a car but if done correctly, you will get the most value for your prized asset.
If you look at the Dubai cars for sale you will notice that they are all either in tip-top condition or have been classified as certified pre-owned. If we at Sun City Motors know one thing, it is to help you get the most value for your used car in Dubai.
At what point is it best to sell a car?
You might be wondering at what point is it best to sell a car? If your car is over a decade old, you might be considering a new one. 10 years is a long time for a machine to be running in its best condition. Furthermore, if you commute frequently, you might be better off selling the car once it hits the 100,000-kilometer mark. That distance is when most of the parts in your car require a full service or direct replacement. If you look at Dubai cars for sale a lot of them will be in this range, either a decade old or have more than 100,000 on the odometer.
How long should I keep a car before selling it?
Well, this is a tough one to answer. The fact that over time, cars can hold sentimental value can go against a practical period of sale. If it is your first car or a gift, you will have a hard time parting with the car. A majority of the cars for sale in Dubai are often the opposite. They are cars up on lots because their owners have to relocate or they have defaulted on their loans.
Also, it all depends on how well the car runs and how important is it to you? If you can figure out which one outweighs the other, you will be able to sell your car without hesitation. Ideally, a car should not be in your garage for more than 15 years.
A car that has run over 165,000 kilometers has practically worn out almost all of its parts and it is ideal to sell the car well before it touches this mark.
What should I check for before selling my car?
There are many things you should check to make sure you get the most value for your used car in Dubai. First and foremost, it is imperative to take good care of your vehicle. That is often the number one reason that can help retain the resale value of your car. To further that endeavor, we are going to list 6 tips that will help you get maximum value when putting up your vehicle among the Dubai cars for sale.
6 handy tips to get maximum value when selling a used car in Dubai
1. Cleanliness
Keep your car clean, inside and outside. You might be used to the condition of your, but a prospective owner could find it a bit odd. Ensure that there is no odor in the car, no residue of dirt and that the upholstery is clean. A deep clean will suffice.
2. Working parts and replacement
When selling a car even the smallest problems can lead to a drop in its value. Make sure that every single electronic and mechanical part on the car is in working condition. Also if you have recently gotten a replacement part, find the receipt and keep it. It will help increase the resale value of your car.
3. Insurance
Giving prospective buyers long-term car insurance is always great news. They will be even more enticed by the fact that they don't have to get it themselves and they will be saving money.
4. Correct documentation
Make sure, the RC owner documents and the service manual are with you. Also do not forget the insurance, having all the documents in place ensures that prospective buyers do have a chance to understand the value that you are offering for your used car.
5. Maintenance
Good car maintenance goes a long way. We have already discussed this and as long as you have a good history of maintenance, your car should go for the right value.
6. Know the value
Another important point before you sell is to know the market value of your used car. Do you know how much your car is worth in the market? Find out. There are various websites and resellers that will have your model. Knowing the market value can help you get maximum out of your used car.
Conclusion
If you happen to be in the city of Dubai, there is no better place than Sun City Motors for used cars for sale. They have the right personnel to help ascertain the value of your used car.
As a leading showroom, you will find the best cars for sale in Dubai. Sun City Motors offers a great range of used cars in Dubai. This adds to their credibility among the best-used car dealerships in Dubai. Not only that, but you will also get the best after-sales service and our professionals can even help you find a new owner for your used car. To learn more, follow Sun City Motors, on Facebook, Twitter, Instagram, and YouTube!