5 Small but Important Things to Remember While Buying Used Cars in Dubai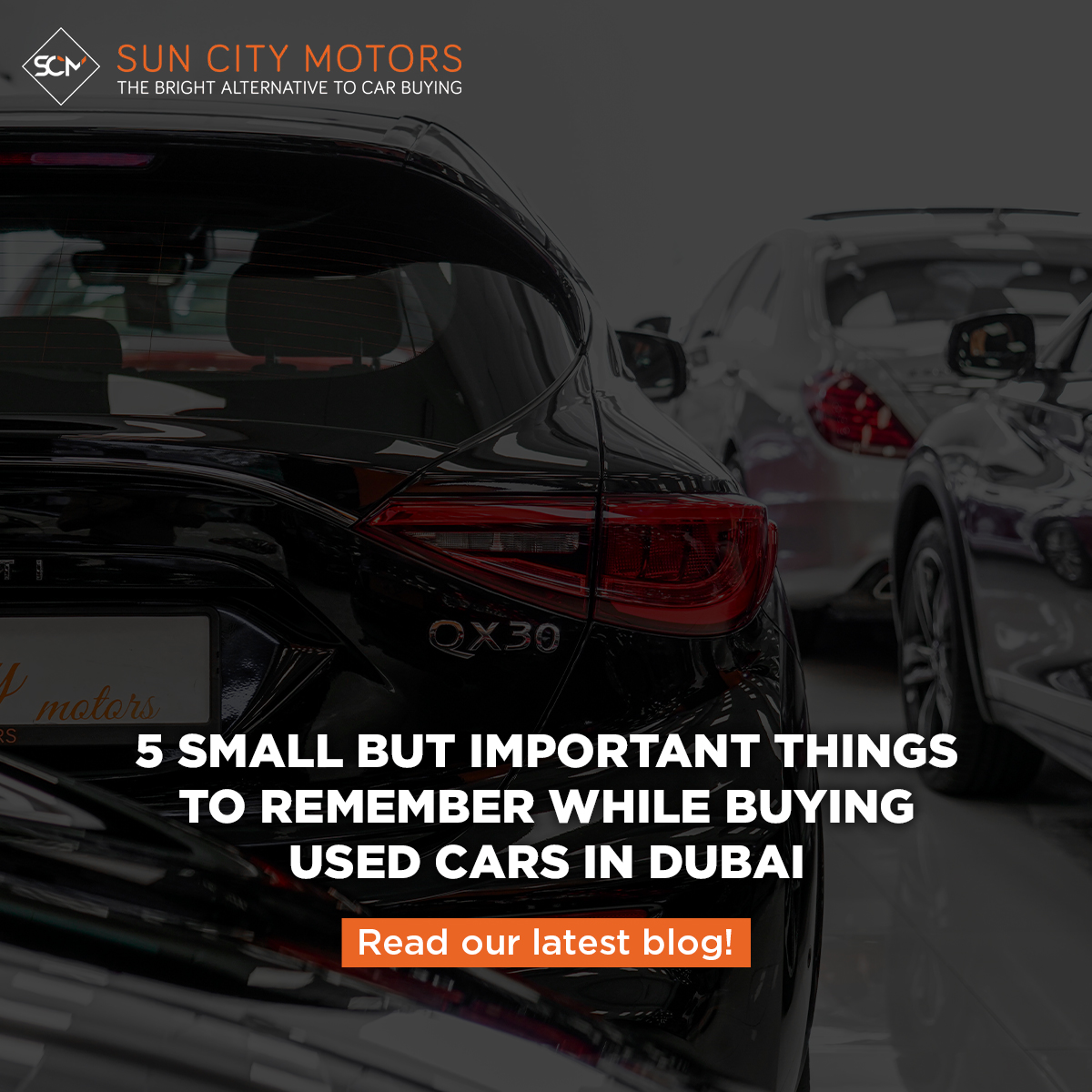 Currently, we live in a period where we can easily get our hands on great quality used cars in Dubai. Good used cars are now a reality than a dream. You can easily find some of the best luxury cars, sports cars, and even economical vehicles in the used car market and in a very good condition.
The reason why this is now a trend is that Middle Eastern cities are experiencing a great influx of cash and the purchasing power has shot up. People are replacing cars at a rapid rate, thus creating a thriving market for used cars. As a customer and someone looking to find an affordable way into owning a car, there is no better time than now.
However, there can be a few challenges when you are in the market for a used car. So, what can you do to get a used car? What are things you should look for? And more importantly, why should you buy one? This guide will answer all of these questions and more. All you need to do is keep reading!
Why should you buy a used car?
Say you want a car but you are also on a budget. What if there was a way to get the car you have desired for ages without having to break your bank? Well, used cars are the solution! When you buy a used car, not only will you be able to select the very make and model of the car that you want but you will also be able to get it for an unbelievable price.
Be it a used Ford Focus or a used Range Rover there is something for everyone. Cities like Dubai have an abundance of used cars and you will be able to snag a great machine for a superb price. In this day and age where the prices of commodities and services keep rising, it might just be a great idea to save money on a vehicle. You might just be able to get a deal of a lifetime all you need to know is how to look and where to look.
5 things you should remember when buying used cars in Dubai
Follow the below guidelines and you will surely be able to get the best possible used car for the best possible price.
Do your due diligence and conduct your research
It doesn't matter if it's a BMW used car in Dubai, or a used Mercedes Benz, all you need to be aware of is the fact that you need to do your research on the kind of vehicle you want. Scour used car websites, look for deals on classifieds, and most importantly, look for the right kind of cars. You want to take your time and find out every detail you can about the type of used car you are looking for. Be it a luxury car or an economical sedan, take your time to find the flaws, the value of the car after it depreciates, and if it is worth the money.
Ideally, you should take purchase a car that has been around for a few years, long enough for second hand owners to have an idea of what the car is like down the years. Doing your due diligence and research will help you avoid scams, bad vehicles, and to get the best possible deal. If you come prepared, you will be able to assess the value of a car and see if it is worth the money or not.
Inspect every inch of the vehicle
When you come to the used car market, dealership, or meet the classified ad owner, you will want to take your time and inspect the vehicle. When you are doing this, you have to be extremely thorough. You want to see if the vehicle comes with any dents, scratches, scrapes, and damage to the exterior. You want to see how much the tyre is used up, how the engine sounds, how the underbody looks, and if there are any other issues with the mechanics of the car. It is advisable to get a mechanic with you when you are inspecting the vehicle. They will be able to identify any problem with the car's functionality and save you a lot of money.
When we say every inch, we mean it and you should cover the interiors as well. Take a microscopic look inside and try to find out if the electronics are working. Ensure that the upholstery itself is in a proper condition. If you find that anything is off, you can definitely use that to your advantage and get yourself a good deal.
Cross-examine the documents
When you are purchasing used cars in Dubai always check and double check the documents that come with a used car. You want to make sure the numbers on the vehicle match that on the documents. You should also get a hold of the service history of the car. This will help you get an idea of how well the car has been maintained. If there are any parts that have been replaced ask for the receipts. Failure to furnish any document becomes a big liability and can help bring down the value of a car drastically. In some cases, you should not buy a car if the documents are not produced.
Drive the car
What good is buying the car without driving it? A test drive will reveal any issue the car may have internally. You will be able to notice cosmetic damages during your inspection but any internal issues will not reveal itself unless you take the car for a spin. This time will also help you get acquainted with how it feels on the road. You want to be able to drive a car that feels good on the road and if you buy a car without knowing how it drives it could be a big blunder from your end.
Do not be afraid to negotiate
Irrespective of the kind of car that you are looking at, be it a used Mercedes or a used Toyota, you want to put yourself in a position where you can negotiate. Armed with the aforementioned points, you can now determine the value of any car and weigh it up against the value offered by the seller. Remember that the price quoted by the seller is often the ceiling price of the car. You can always bring it down and you need to be in command when it comes to negotiations. Use any flaw you can find to bring down the price and you will be able to walk away with a deal that saves you a few more bucks in your pocket.
Conclusion
While the points we have mentioned before may seem kind of obvious, to some it may not be. You need to ensure that you are diligent when it comes to buying used cars in Dubai. Keeping the above points in mind will help you stay one step ahead and get yourself a car that is worth your money. When you want to buy a used car in Dubai there are handful of dealers like Sun City Motors who offer a superb value proposition. For the latest news, offers and updates, visit our website and follow Sun City Motors on Facebook, Instagram, Twitter, LinkedIn, and YouTube.