5 Reasons Why You Should Buy a Used Bentley in Dubai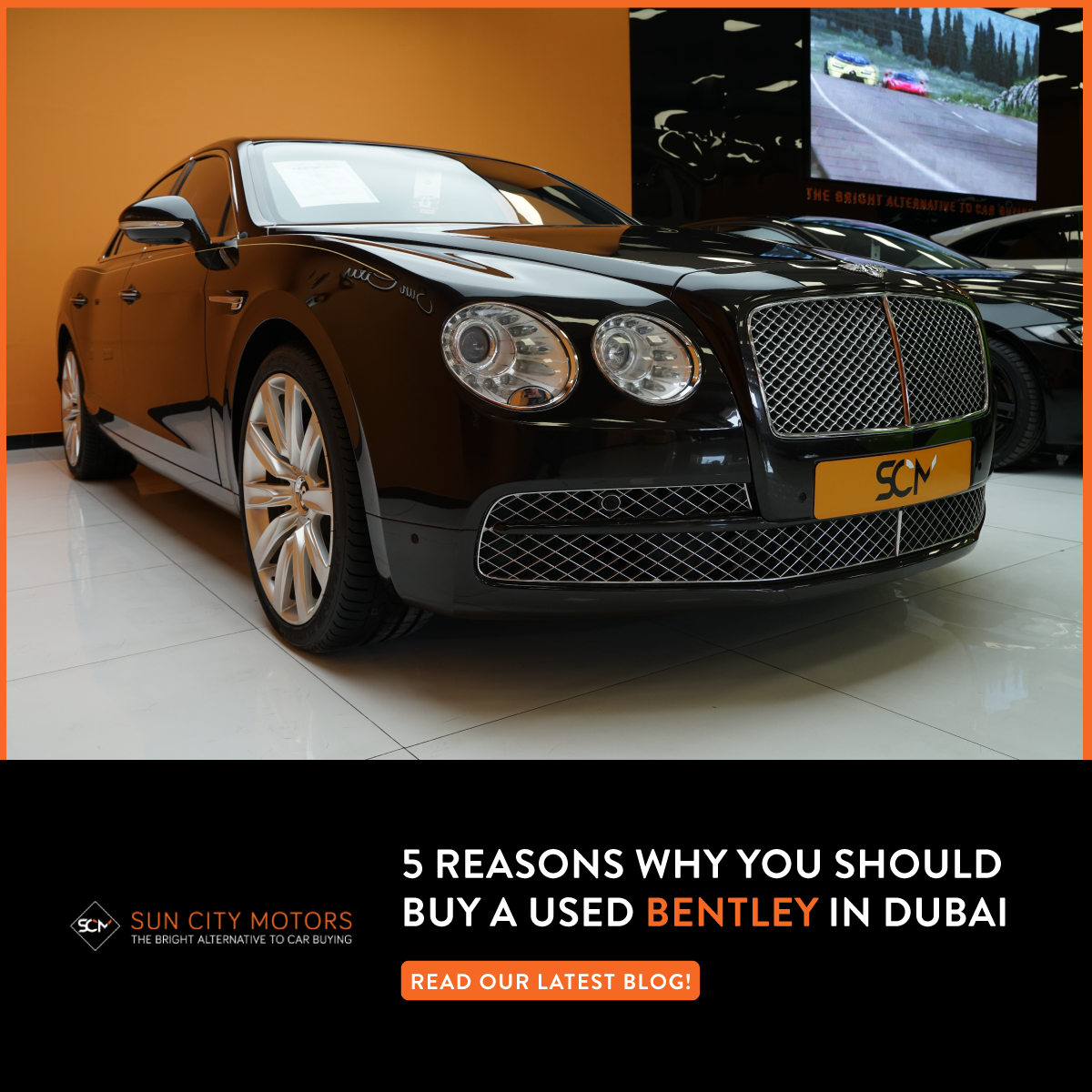 There are very few places in the world where you can get a deal on a used car, let alone a used luxury car. The market has been ripe for the past few years, and the combination of a global chip shortage and the raging pandemic has made used cars an essential and affordable commodity.
The cost of used cars has significantly risen over the last two years and will continue to do so. There is now an inherent value in a used car. As we look ahead to the new decade, a used car will certainly become a better buying prospect than a new one. In places like Dubai, you can snag a used luxury car for a great deal. The conditions are favourable for the market. You have the rich constantly shifting between new cars and fleeing owners leaving behind cars that have been barely used. Getting a Bentley in Dubai is not as crazy a prospect as you think. By purchasing a used Bentley in Dubai through a used car dealership can help you bag a serious bargain. The used car market in Dubai is simply different, and you can get heavy discounts even on a luxury car with barely any miles on the clock.
The car
Now, coming to the prospect of the car, a Bentley is not just desirable, it is aspirational. Take a look at any Bentley and you will be floored. The design is simply spectacular, the curves, the elegance, and the sheer size of the car; all the elements combine to give Bentleys a superb road presence. You will find all kinds of cars from the house of Bentley in Dubai. From radical supercars such as the Benteyaga, which is the king of SUVs to the super-fast Continental GT.
Even the collection of used Bentley Dubai is huge. The catalogue consists of cars from all decades and you can get some models at unbelievable prices. The luxury aspect of a Bentley is also what attracts buyers. The quality of materials used and the tech available inside a used car can vary drastically but with a Bentley, you know the quality will be upheld. You do not have to worry about the car's age, a Bentley will keep turning its gears for decades on end.
The brand
The brand name is a key indicator of a car's uniqueness. The Bentley name will perk up ears and attract attention anywhere you go. You can rest assured that people will be excited and thrilled to take a look at a Bentley. The British carmaker's name only evokes excellence and pride. Owners of Bentley in Dubai know the kind of respect their cars command on roads. The only reason they get it is because of the brand name. Even owning a used Bentley in Dubai would help you get a level of attention and interest that other brands simply cannot deliver. A Bentley is a car reserved for the elite and if you can get that at a cut-price, you definitely should.
The prospect
Not to mention, the prospect of owning a Bentley is ridiculous. Their cars are machines milled straight from Great Britain and come with a quality and sophistication that is rarely afforded to cars. You get a machine that is coveted and desired by everyone. It is no hidden fact that a Bentley is a dream car for a lot of people. It feels more than just another car on the road.
When you see a Bentley in Dubai, you will turn your head to admire it. It is not a common sight like some other luxury cars. The idea that you can own a used Bentley Dubai and people will not be able to distinguish from a new car is great. Even if people can tell, the class of a Bentley will persuade them to forget about that fact. The prospect of owning a used luxury car and to add to that a Bentley is simply too good. You will not feel the same satisfaction when you buy a new car that is within your budget.
The verdict
The idea is simple, a used luxury car can help elevate your status in society, all the while helping you save some cash. With the cars in superb condition, especially in Dubai, you have a real opportunity to own a priceless vehicle. There is also the matter of the rising interest in used cars. Chances are your car will not depreciate as badly as it used to. Buying a used Bentley Dubai is a real way to drive a top-of-the-line luxury car, without having to sacrifice a lot. And what's more, you can rest assured of the best cars at great prices with trusted dealers like Sun City Motors. For the latest news, offers, and updates on used, follow Sun City Motors on Facebook, Instagram, LinkedIn, YouTube, and Twitter.