2022 Update: Tips on Buying a Car in the UAE During Inflation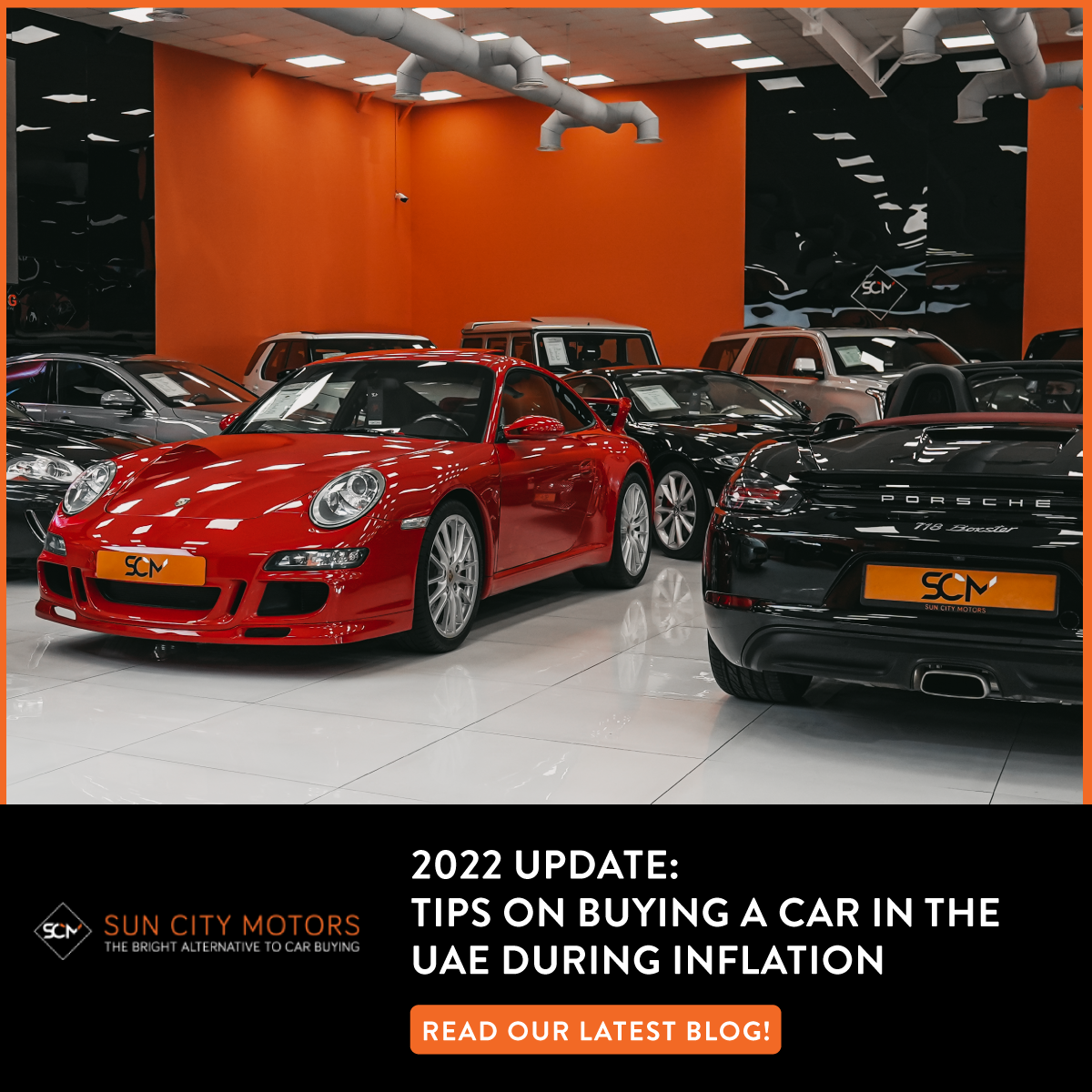 The UAE is currently in the midst of an inflation, with prices rising on everything from food and fuel to housing and healthcare. This has made life difficult for many residents, particularly those on fixed incomes. One of the most affected areas has been the car market. New car prices have shot up, while used cars are also becoming more expensive. In this blog post, we will provide some tips on how to buy a car during inflation in the UAE.
1. Set a Budget
When it comes to buying a car in the UAE during inflation, one of the most important things you can do is set a budget. This will help you determine how much you can afford to spend on a car, and will also keep you from overspending.
There are a few things you should take into account when setting your budget for a car purchase. First, consider the type of car you want. There are many different types of cars available on the market, and each one has its own price tag. If you have your heart set on a particular type of car, be sure to factor that into your budget.
Next, think about how much money you can realistically afford to spend on a car. It's important to remember that even though cars are expensive, there are always other costs associated with ownership, such as insurance and maintenance. Inflated prices can also make it difficult to resell your car down the road, so be sure to factor that into your budget as well.
Finally, don't forget to set some money aside for unexpected costs. No matter how carefully you plan, there's always a chance something could go wrong when buying a car. By setting aside some extra cash in your budget, you'll be prepared for anything that comes up. By following these tips, you'll be able to set a realistic budget for buying a car during inflationary times.
2. Narrow Your Search
As the cost of living in the UAE surges, many residents are feeling the pinch when it comes to buying a car. With car prices on the rise, residents are looking for ways to save money when purchasing a vehicle.
During inflationary periods, it is important to be more mindful about our purchase. Consider your needs – What kind of car do you actually need? If you only ever use your car for short trips around town, there is no point in splurging on a luxury SUV that will end up costing you a fortune in fuel. Likewise, if you have a large family, you'll need something that has plenty of space and is comfortable for long drives. Knowing what you need will help you focus your search and find the perfect car for your lifestyle.
Once you have an idea of what kind of car you want and how much you can afford to spend, it's time to start doing some research. Read reviews online, talk to friends and family, and visit your local dealership to get a feel for the different options available. It's also important to research the different financing options available to you so that you can get the best deal possible.
4. Get Pre-Approved for a Loan
If you're looking to buy a car in the UAE, it's important to get pre-approved for a loan before shopping. This will give you a better idea of what you can afford and help you compare offers from different lenders.
To get pre-approved for a loan, you'll need to provide some financial information to the lender, including your income, debts, and assets. The lender will then give you a letter of pre-approval, which you can use when negotiating with dealerships.
Keep in mind that pre-approval is not the same as final approval, which you'll only receive once you've chosen a car and applied for financing. Also, be sure to shop around for the best interest rate and terms on your loan before committing to anything.
5. Used Cars to Get Expensive
The cost of living in the UAE is on the rise, and this includes the cost of buying a used car. This means that if you're thinking about buying a used car in the UAE, you need to be prepared to pay more than you would have last year. Here are a few tips on how to get the best deal when purchasing a used car.
Once you have an idea of what you want, compare prices from different dealerships and private sellers. Don't forget to factor in the cost of registration, insurance, and other fees. Make sure to inspect the car thoroughly before making a purchase. Pay attention to the engine, tires, interior, and exterior. If possible, take it for a test drive to get a feel for how it drives.
Don't be afraid to negotiate on price, especially if there are any issues with the car. Remember that you have the power to walk away from a deal if it isn't in your best interest. Once you've reached an agreement, make sure that all the details are laid out in writing before signing anything. This will protect you in case there are any problems down the road.
6. Be Prepared to Negotiate
When it comes to buying a car in the UAE, negotiation is key in order to get the best deal possible. However, with inflation on the rise in the UAE, prices of vehicles are also increasing. This makes it all the more important to be prepared before heading into negotiations.
It is crucial to have all the facts and figures about the vehicle you are interested in buying, and also be aware of market prices for similar models. It would also be beneficial to find out about trade-in values, interest rates and financing options. This way you can negotiate effectively with dealers on price, and be more confident in your purchase.
Also, it is recommended that you get insurance quotes from different companies before purchasing a car to help evaluate your overall costs associated with owning a car in the UAE. You should also ask whether government charges like VAT are included in the final insurance quote. Finally, don't be afraid to ask for discounts or extras, such as extended warranty coverage or free servicing. It never hurts to ask!
By following these tips, you'll be better equipped to handle negotiations when car shopping during periods of inflation. With a little preparation, you can still get a great deal on your next vehicle purchase.
Conclusion
Inflation can be a difficult thing to manage, especially when it comes to buying a car. However, by following our tips on how to buy a car during inflation, you'll be able to get the best possible deal on your dream car. Keep an eye out for sales and promotions, don't be afraid to haggle, and make sure you have a budget in mind before heading to the dealership. With our help, you'll be driving off in your new car in no time! To learn more, follow Sun City Motors, on Facebook, Twitter, Instagram, and YouTube!