10 Tips for First Time Used Car Buyers in the UAE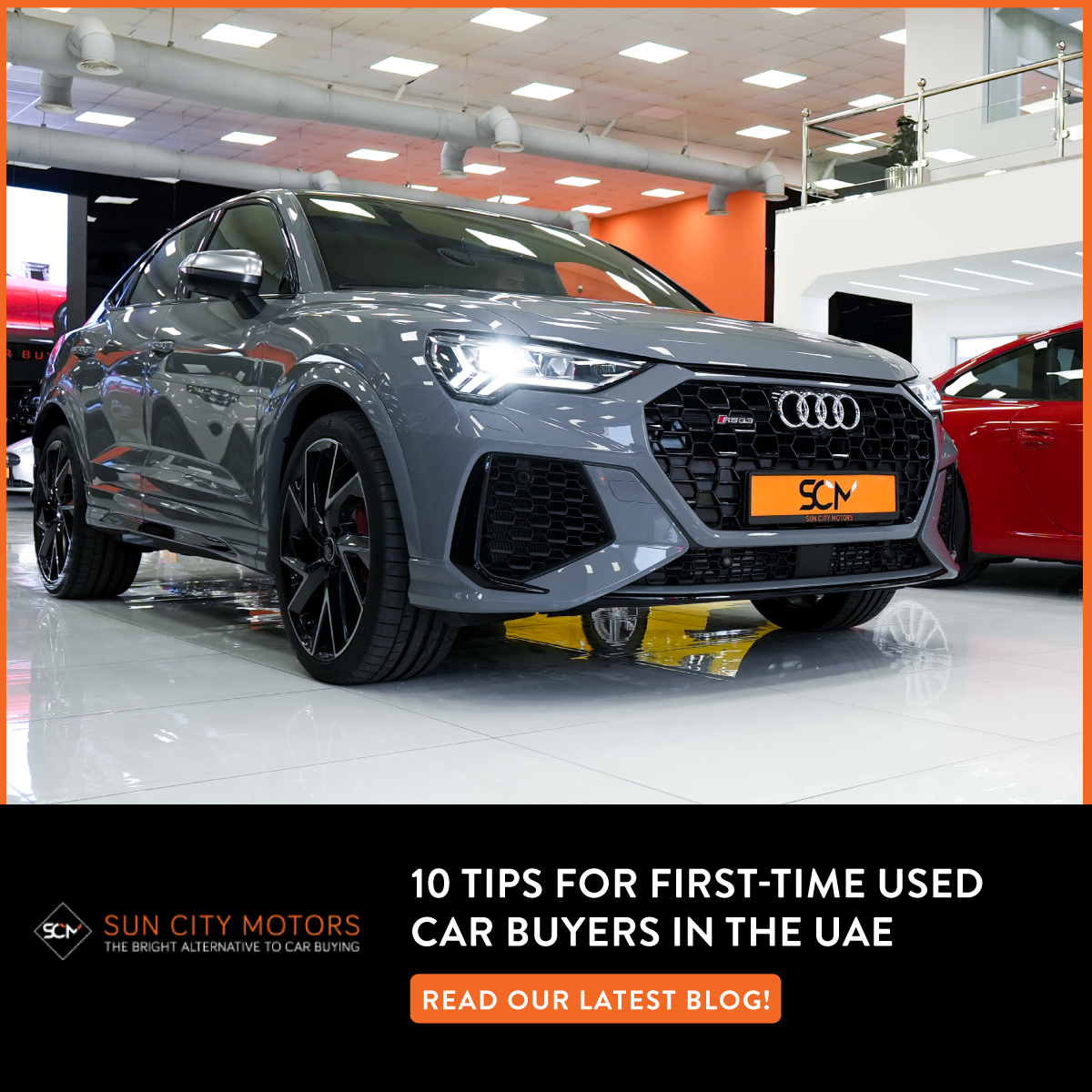 If you're in the market for a used car in the UAE, then this article is for you. In fact, used cars outsell new cars here 3-to-1. But if you're a first-time buyer, the process can be a bit daunting. There are so many factors to consider and things to watch out for. Fortunately, we've compiled a list of 10 tips to help you along the way. From negotiating the price to getting a thorough inspection, these tips will help you make the best purchase possible and get behind the wheel of your new (used) car in no time.
Research your options
Assuming you have a budget in mind and an idea of the kind of car you want, it's time to start your search. But before you head down to your nearest used car dealership or start browsing online classifieds, there are a few things you should do to prepare.
First, research your options. What kind of car do you want? What size? What features? Make a list of must-haves and nice-to-haves. Once you know what kind of car you're looking for, you can start narrowing down your options.
Once you've found a few potential cars that fit your criteria, it's time to start doing some more in-depth research. Check out online reviews of the make and model of the car you're interested in, as well as reviews of the dealerships or private sellers selling the car. It's also a good idea to get a Carfax report on any used car you're considering buying, which will give you information on its history, such as whether it was in any accidents or if it has been recalled
Decide on a budget
When it comes to buying a used car, one of the most important things to do is decide on a budget. This will help you narrow down your options and find a car that fits both your needs and your budget.
To start, take a look at your finances and see how much you can afford to spend on a car. Keep in mind that you will also need to factor in things like insurance, fuel, and maintenance costs. Once you have an idea of how much you can realistically spend, you can start looking for cars that fit into your budget.
Keep in mind that cheaper doesn't always mean better when it comes to used cars. Just because a car is within your budget doesn't mean it's the best option for you. Take the time to research different models and make sure you're getting a quality car before making your final decision.
Get a pre-purchase inspection
If you're planning to buy a used car in the UAE, it's important to get a pre-purchase inspection (PPI) before making any decisions. A PPI is an unbiased assessment of a car's condition and can help you avoid making a hasty decision.
When getting a PPI, make sure you use a reputable inspection service. Be present for the inspection so that you can ask questions and get a first-hand look at the car's condition. Get an estimate of repair costs before you make an offer on the car. This will help you negotiate a fair price for the vehicle. Point out any areas of concern and make sure they're included in the inspection report. Despite all that, if something doesn't feel right about the car, walk away from the deal.
Do a test drive
First-time used car buyers in the UAE should always take the car for a test drive before making a purchase. This will give you a chance to see how the car handles and perform on the road. It is also a good idea to bring along a friend or family member who knows something about cars to help you inspect the vehicle.
When test driving the car, pay attention to how it feels to drive. Does the steering feel tight or loose? How do the brakes respond? Is there any unusual noise coming from the engine? Also, be sure to try out all of the features of the car, such as the radio, air conditioning, and power windows.
Once you have taken the car for a spin, be sure to ask questions about anything that you are unsure of. The salesperson should be able to answer any questions that you have about the car. If they cannot, then you may want to consider buying from another dealer.
Check the vehicle history report
When looking at used cars, it's important to get a vehicle history report (VHR). This report can tell you a lot about the car, such as whether it has been in any accidents or if it has any outstanding recalls. VHRs can also give you information on the car's previous owners, how often it was serviced, and more.
To get a VHR for a used car in the UAE, you'll need to provide the car's registration number and chassis number. Once you have these numbers, you can contact the concerned Department of Transport or the Roads and Transport Authority to request a VHR. There is usually a fee for this service, but it is worth it to get peace of mind when buying a used car.
Consider financing options
There are a few things to consider when it comes to financing your first used car in the UAE. The first is whether or not you want to finance through a bank or dealer. There are pros and cons to both, so it's important to do your research and figure out what will work best for you.
If you finance through a bank, you'll likely get a lower interest rate than if you finance through a dealer. However, banks typically have stricter requirements for borrowers, so make sure you understand all the terms and conditions before signing on the dotted line.
Dealerships often offer their own financing options, which can be convenient if you find the right one. Be sure to compare interest rates and terms before deciding on this option. Whichever route you choose, make sure you shop around for the best deal and compare interest rates, fees, and repayment terms before making your final decision.
Be prepared to negotiate
When you're ready to start negotiating with a seller, it's important to be prepared. Do your research ahead of time and know what type of car you're looking for and what price range you're willing to consider. Have a clear idea of what features and amenities are most important to you in a car, and be willing to compromise on others. Be firm but fair in your offers, and be prepared to walk away if the seller isn't willing to meet your needs.
Know your rights
If you're buying a used car for the first time in the UAE, it's important to know your rights as a consumer. The UAE has laws in place to protect buyers of used cars, and knowing your rights can help you avoid being taken advantage of.
When you buy a used car, you should always get a written contract from the seller. This contract should include all the details of the sale, including the price, any warranties or guarantees, and what is included in the sale. You have the right to a refund if the car is not as described. If you buy a used car and it isn't as described in the contract, you can get your money back from the seller. You have the right to cancel a purchase within an agreed timeframe. If you change your mind after buying a used car, you can cancel the purchase within the set period and get your money back.
Have realistic expectations
If you're planning to buy a used car in the UAE, it's important to have realistic expectations. While there are some great deals to be found, you'll need to be prepared for the possibility of hidden damage and repairs that may be needed.
Use online resources and speak with experts to get a sense of the market value for the make and model you're interested in. Look for any signs of damage, both cosmetic and mechanical, and be sure to test drive the car to ensure everything is in working order. And even if a car appears to be in good condition, there's always the possibility that repairs will be needed down the line. Factor this into your budget when considering how much you're willing to spend on a used car.
Take your time
When you're buying a used car for the first time, it's important to take your time. There are a lot of things to consider and you want to be sure you're making the right decision.
Don't feel like you have to buy a car right away. If you find a car you like, take a few days to think about it. Talk to your family and friends about it. See if you can find someone who knows more about cars than you do to take a look at it. Once you've decided that you're ready to buy, don't rush into it. Take your time negotiating the price and be sure to get all the information you need before signing anything.
Conclusion
We hope you found our tips for first-time used car buyers in the UAE helpful. If you're still feeling unsure about the process, remember that there are plenty of resources and experts out there who can help guide you through it. The most important thing is to do your research and be prepared before making any big decisions. To learn more, follow Sun City Motors, on Facebook, Twitter, Instagram, and YouTube!