10 Things You Need to Know About Your Pre-owned BMW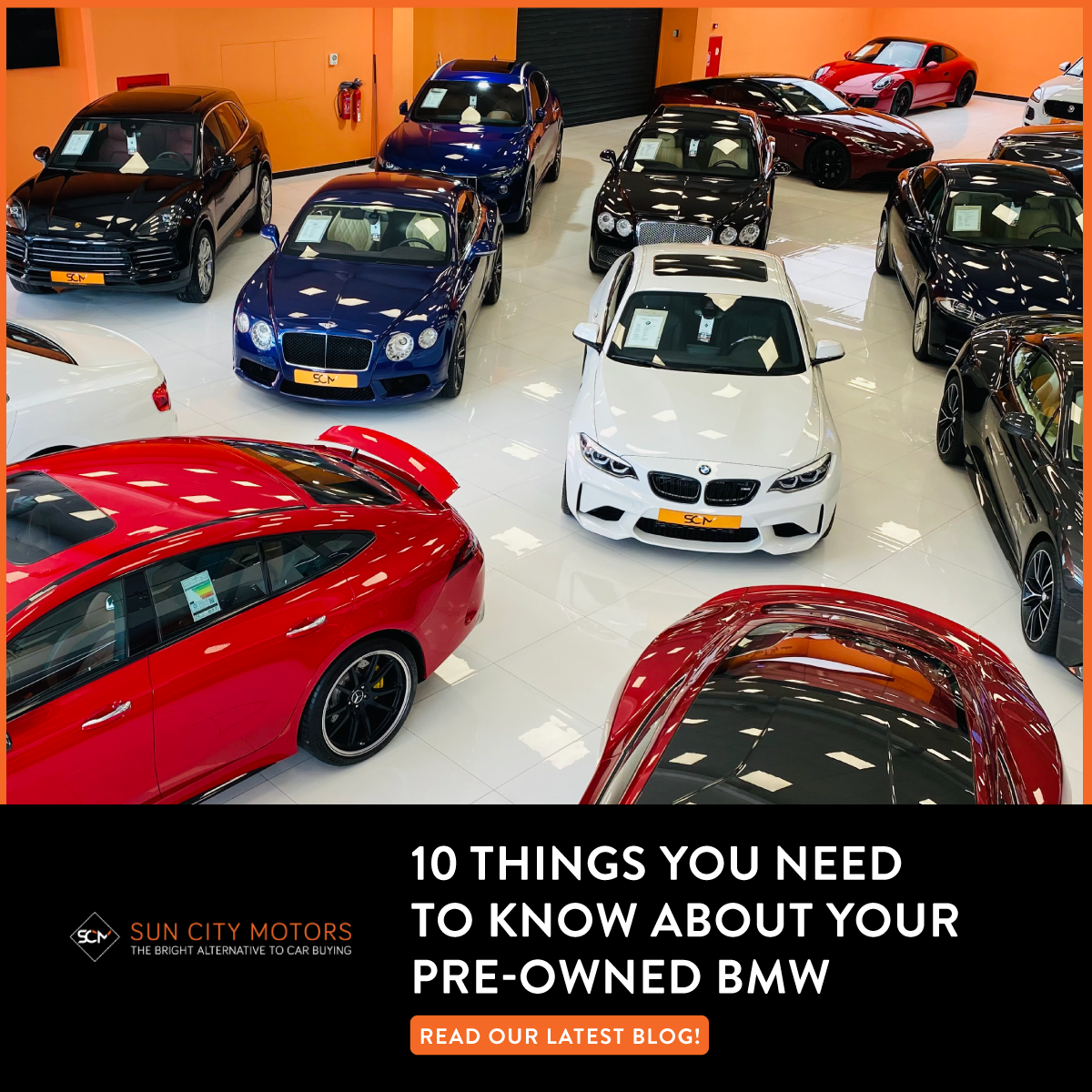 First things first, you have made a wise decision if you are in the market for a BMW. A car that defines prestige and uplifts you into the upper echelons of society. Whether it is a new or a used BMW, your life will never be the same.
However, owning a BMW, especially if it is a new or a pre-owned BMW is not cheap. The city of riches, the abode of the expatriates, Dubai has become a center of commerce in the Middle East. Naturally, people here drive some of the finest vehicles known to man. So now that you are looking to buy a BMW, what do you need to know? This guide is here to serve that purpose. Towards the end, we will also give you 10 tips you need to know about your pre-owned BMW.
What to know before you buy a BMW?
So the first thing to keep in mind is the price. A pre-owned BMW is not cheap, not by any means. But then again, you are looking to invest in a car that can last you a lifetime; moreover, you are also buying into a lifestyle.
Owning a BMW is a status symbol. It signifies that you have made it in life. Quite far by the measurements of some. There is the matter of price and there is the measure of condition. Ensure that the car you are about to purchase is in good shape. You will find a range of BMW in the UAE and before you dive in, do your research.
Is Dealer Certified Pre-Owned BMW worth it?
Yes, it is worth the money because you get a car that has been given the stamp of approval directly from the dealer. A dealer certified pre-owned BMW in Dubai also ensures that you will have minimal hassles when it comes to paperwork and get the trusted contacts for genuine service and support.
How do you inspect a used BMW?
The first step in the process would be to find a reliable mechanic and then the second part would involve using your own eyes. You have to be the best judge of a car as it is something you will be driving on a day-to-day basis. So, make sure that you do not miss a single inch when inspecting.
Where can you get the best used BMW in the UAE?
The best place for a used BMW is a pre-owned BMW Dubai showroom. Depending on your budget and needs, you can find a wide range of old and latest models at pre-owned BMW showrooms such as Sun City Motors. Besides BMW, you can find a whole fleet of luxury and affordable cars that fits your needs and budgets at these reputed used car dealerships.
10 tips before you buy a pre-owned BMW
Here are 10 great tips and things to know if you want to buy a pre-owned BMW.
1. Research the car and the dealership
Do your research, check market rates, check the problems, and find out the reviews on the model you want to buy. What's more, you can also find out reviews of the dealership so that you know you are going into the right place.
2. Choose a reputed Pre-Owned Dealer
When buying a used BMW, visiting a reputed pre-owned car will benefit you in the long run. These cars usually have detailed service history and all the necessary paperwork required that makes it road-ready.
3. Inspect the vehicle history
When buying a used vehicle, you want to know that the previous owner took good care of the car. More importantly, you don't want a car that has been involved in accidents or has worn out parts.
4. Take a look at mechanical issues
When you are going to check out a car, call a mechanic with you. They will be able to see what problem lies under the hood, inside the car, and the overall condition. A seal of approval from them would solve a lot of issues for you.
5. Test drive
The most important rule when buying a new car is to test drive it. You should know what you are getting into and if you enjoy the driving experience.
6. Consider finances
A BMW is not exactly cheap to buy or maintain. This is why you should consider getting your finances sorted before you make a big decision such as this.
7. Insurance planning
You might go amiss with this one, which is why we are here to reinforce it. Buying a BMW is a matter of pride, it is a luxury vehicle. Getting insurance ready would be wise planning.
8. Don't buy the first one
No matter how much you like the car, do not buy the first one you stumble upon. Take your time, do your research, look at other cars and then make your decision.
9. Make sure the car's mileage is low
Last but not least, when buying a used BMW, ensure that the car has low mileage. This will ensure that the vehicle's components and parts have relatively less wear and tear and will last for years to come if properly maintained.
10. Consider getting a pre-purchase inspection
If you are buying a used car that isn't in your local area, it is essential to get a pre-purchase inspection done by a certified mechanic to check whether the car is mechanically sound. If there are any defects or problems found, you will have time to fix them or negotiate with the seller for a better deal.
Conclusion
There are plenty of places where you can get a used or pre-owned BMW but not many are going to provide you with the same level of satisfaction that Sun City Motors will offer you.
We offer an extensive range of used cars in Dubai. At Sun City Motors, you can rest assured you will be able to get the best deals on a pre-owned BMW in Dubai. Not only that, but you will also get the best after-sales service and our professionals can even help you find the right car that fits your budget and needs. Follow Sun City Motors on Facebook, Twitter, Instagram, and YouTube to learn more!